Dear Valued User:
Welcome to Toobit, the world's leading new-generation crypto financial trading platform. You can start your Toobit journey with this guide, which includes: pre-trade preparation, spot trading and futures trading.
1. Pre-trade preparation
Sign up: enter the registration page through https://www.toobit.com/en-US/register or the referral link shared by your friends. Register with your email address or phone number, enter your password and referral code (if any), and then check the "Agree to the service information and terms ". Click Create Account and enter the verification code to complete the account registration.
Unable to receive the email verification code?
How to Log in to Toobit Using Google and Apple Accounts
Security Settings: In order to improve the account security level, protect your assets, and for trading on the platform smoothly, we recommend you to open the two-factor authentication. Go to [Security Settings] and enable any two security items from email, cell phone and Google authentication. In addition, you can also continue with the advanced settings, asset password and anti-phishing code to further protect your account security.
What do I do if I lose my Phone/Email/GA?
What is the Anti-Phishing Code?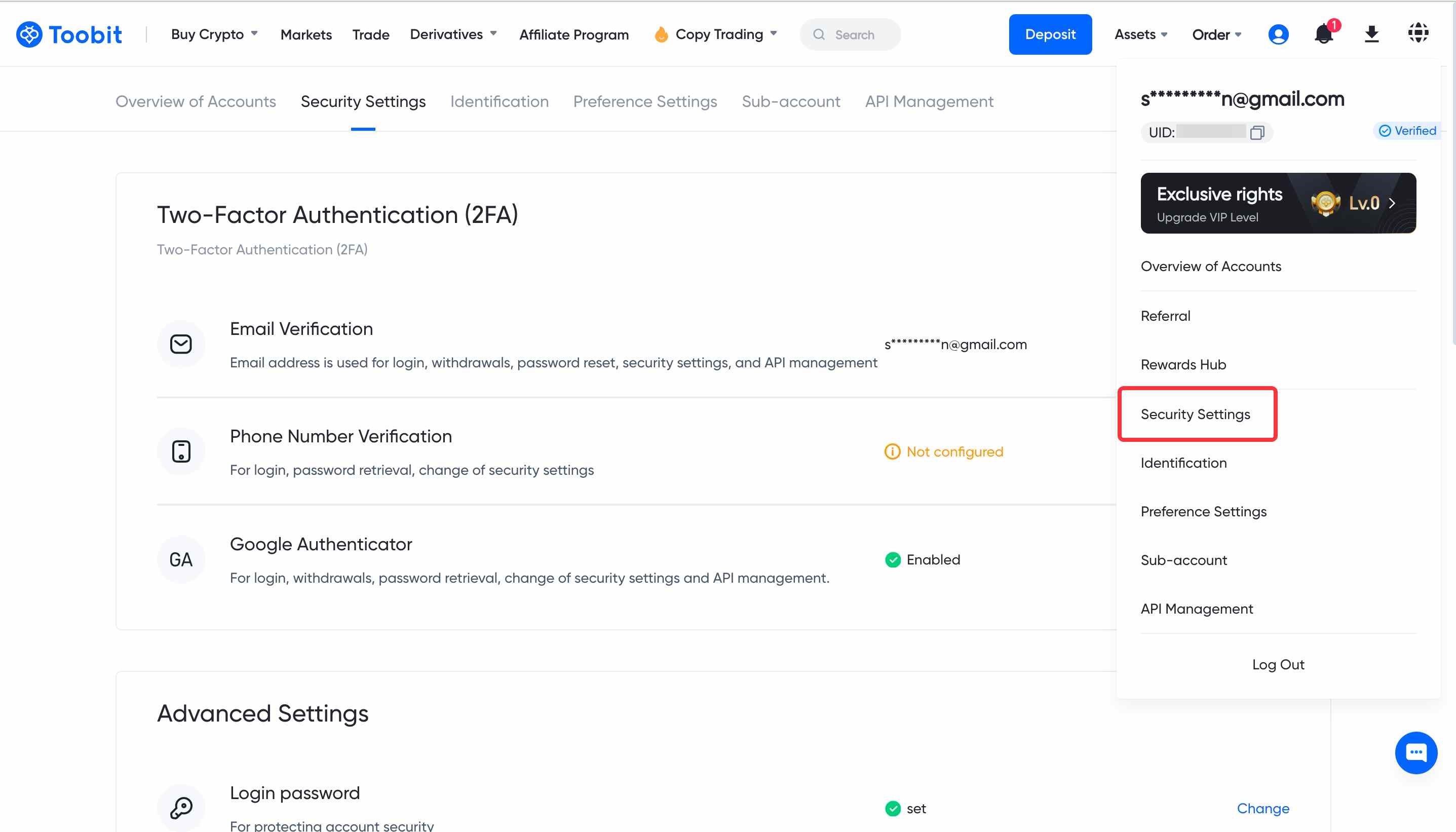 Account Verification: Go to 【Identification】 for basic verification and advanced verification. After the basic verification is completed, you can conduct withdrawals, fiat trading and API settings, and you can increase the trading limit by completing the advanced verification.
How to Complete Identification?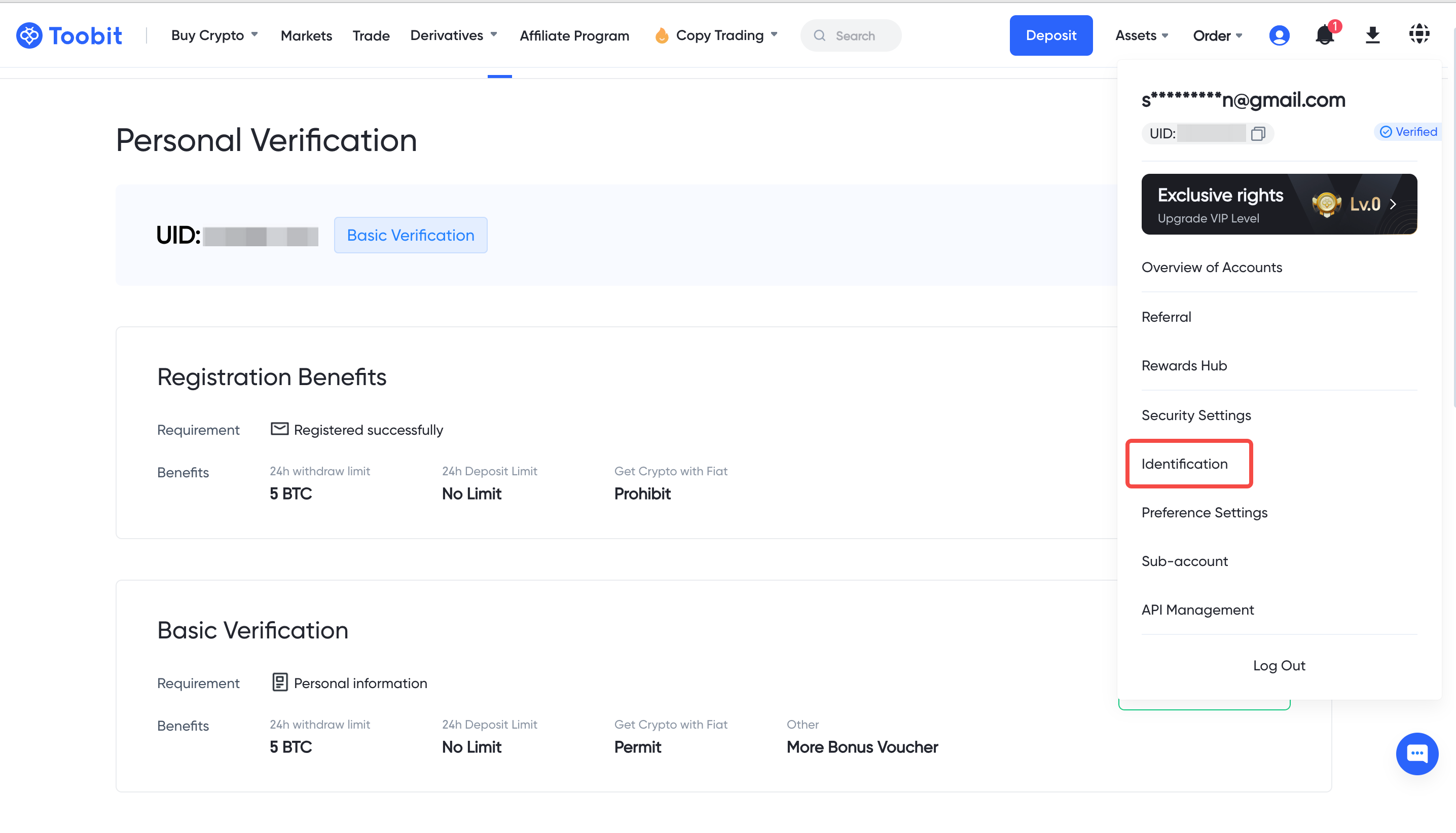 2. Spot Trading
Spot Trading: If you already have cryptocurrency in your account and want to exchange with other currencies, you can go to the spot market to make an order. For example, the BTC/USDT trading pair can be understood as buying BTC with USDT or exchanging USDT for BTC.
How to Trade Spot on Toobit Website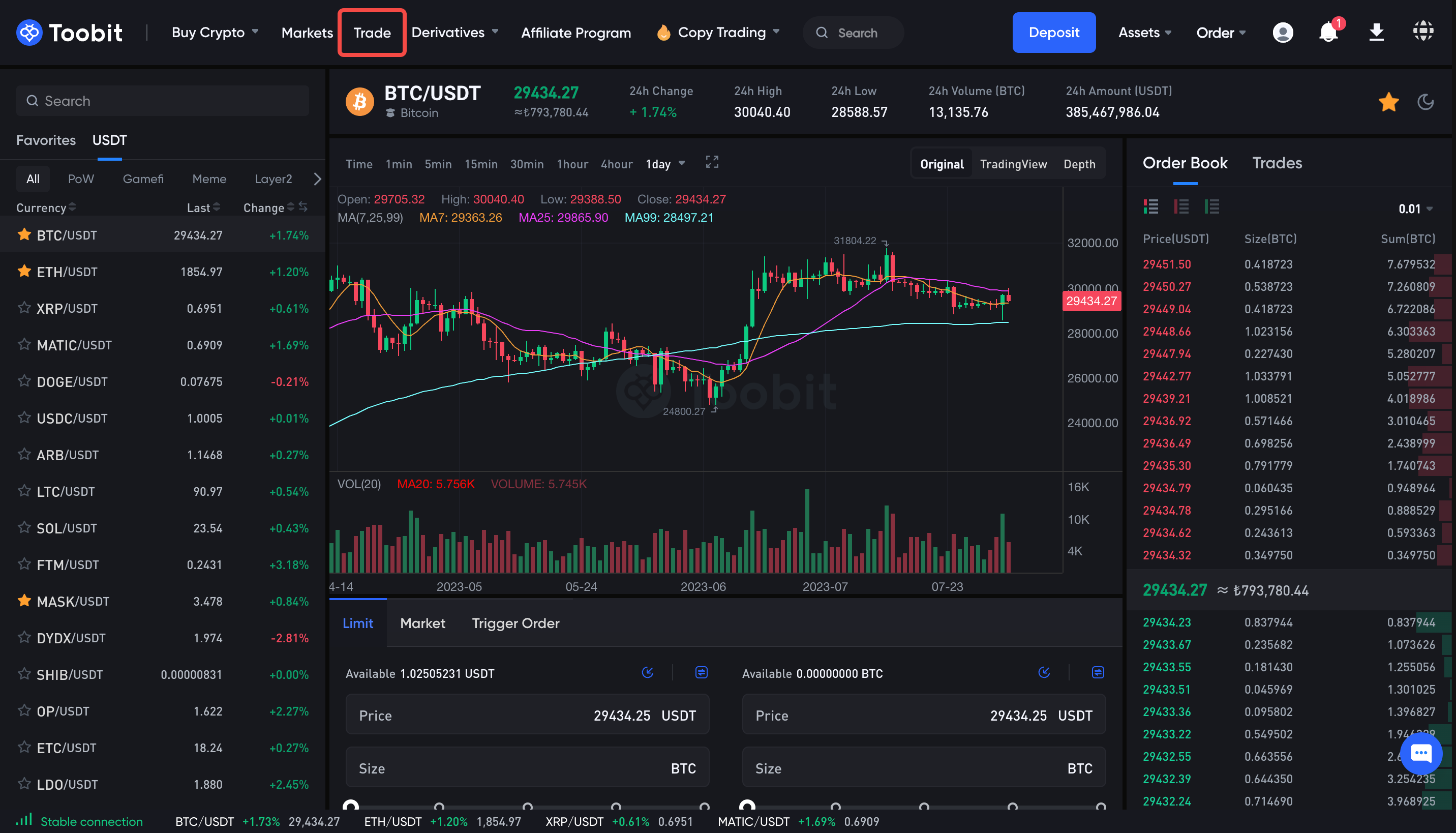 3. Crypto Deposit and Withdrawal
Deposit: If you don't have any assets in your Toobit account yet and need to transfer your assets from another exchange/wallet, you can enter [Assets] - [Spot Account] and select [Deposit], select the coins to be deposited and copy the address, pay attention to the prompt information on the deposit page and then you can deposit your digital assets.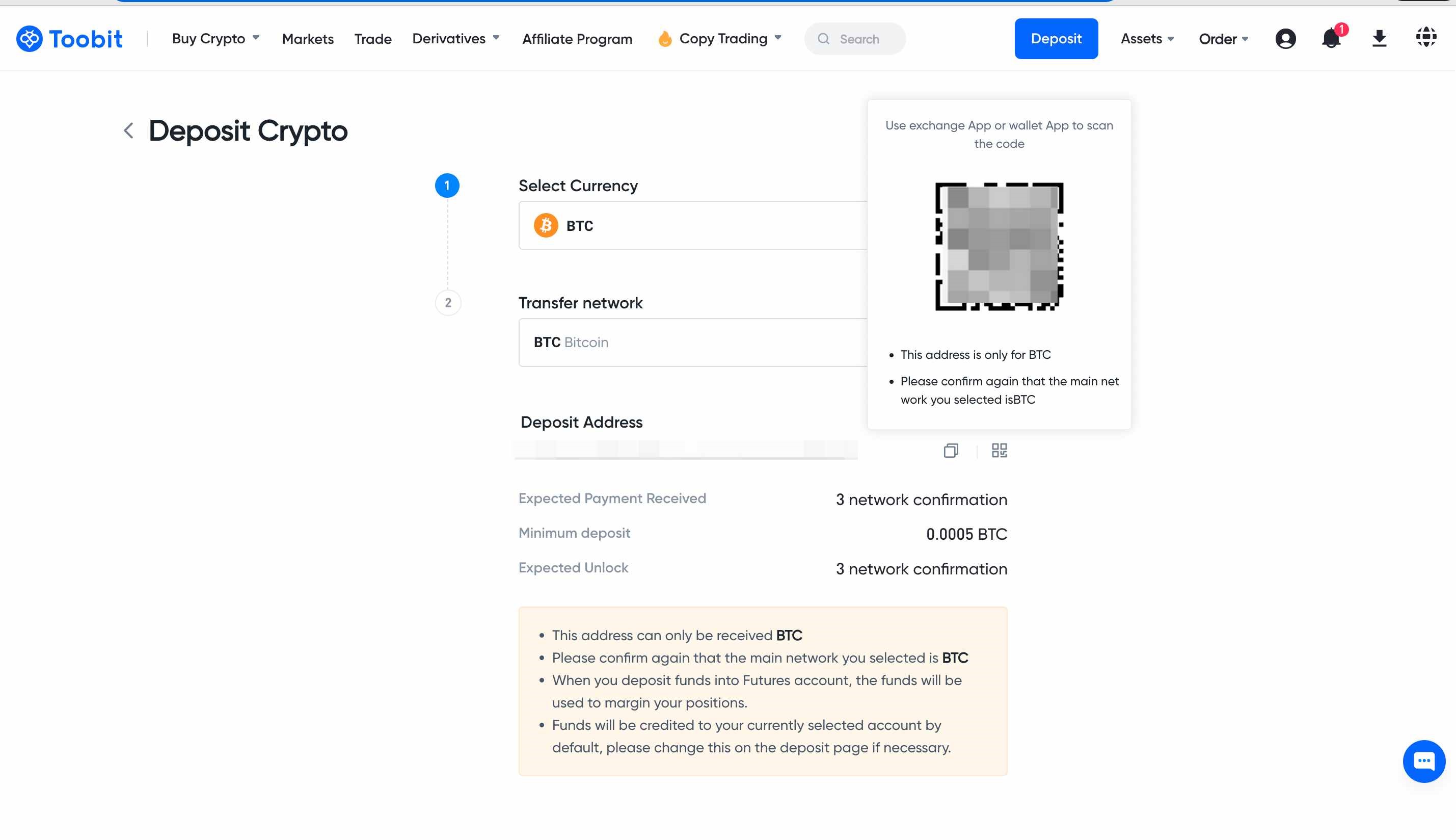 Withdraw: If you want to withdraw the coin in your Toobit account to other exchanges/wallets, you can go to [Assets] - [Spot Account] and select [Withdrawal], select the target coin, enter the receiving address and quantity, pay attention to the notice on the withdrawal page and then you can submit your withdrawal application for review.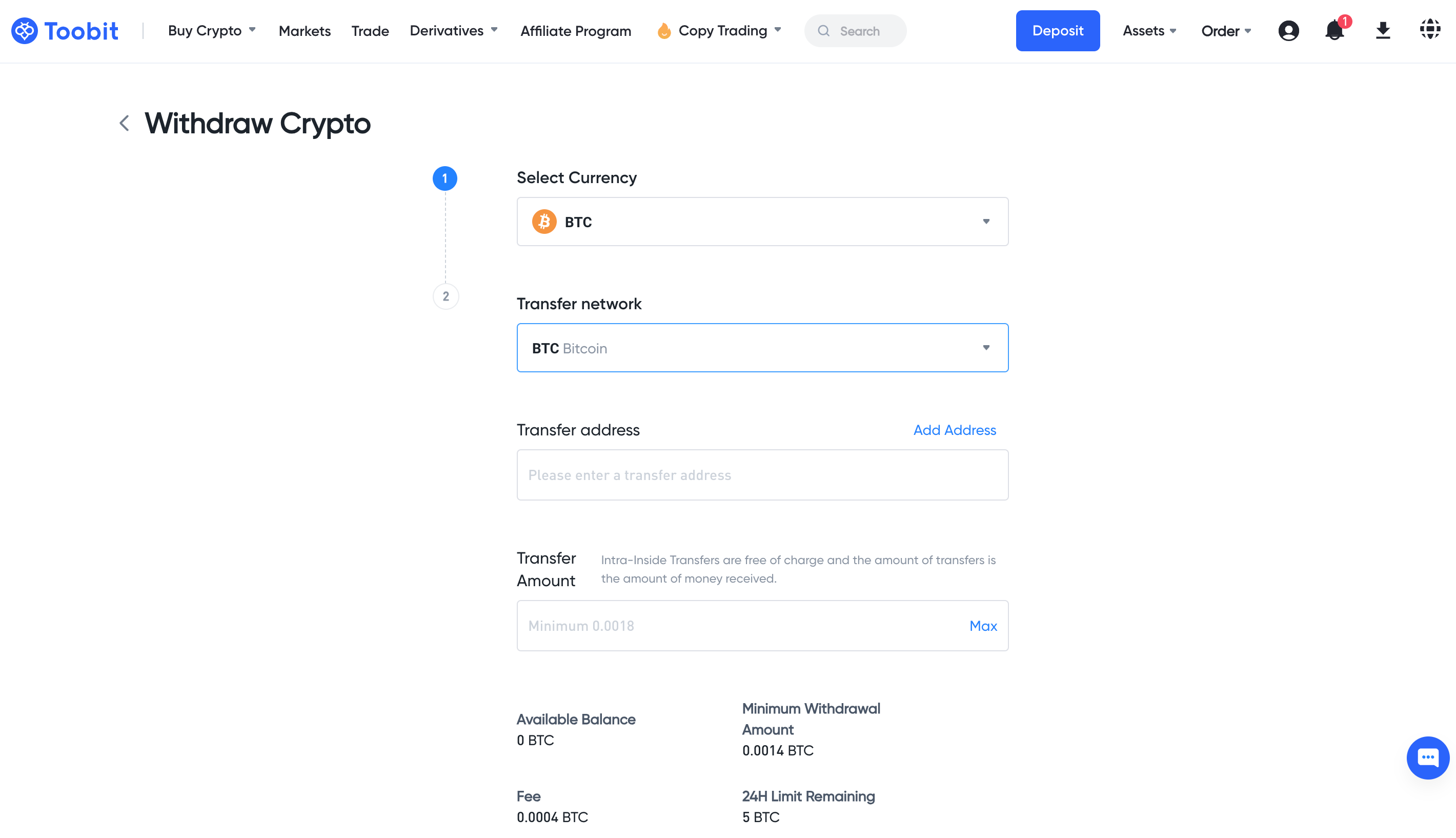 4. Buy crypto
If you don't have any cryptocurrencies on other platforms or wallets, you can purchase them using your credit/debit card. Simply click on [Buy crypto] on the homepage, and select [buy crypto with credit/debit card] to access the purchase page. Choose the fiat currency you want to pay with, select the cryptocurrency you wish to buy, input the quantity and amount. Our system will automatically recommend the best purchasing channel for you. Follow the on-screen instructions to complete the order and you're all set!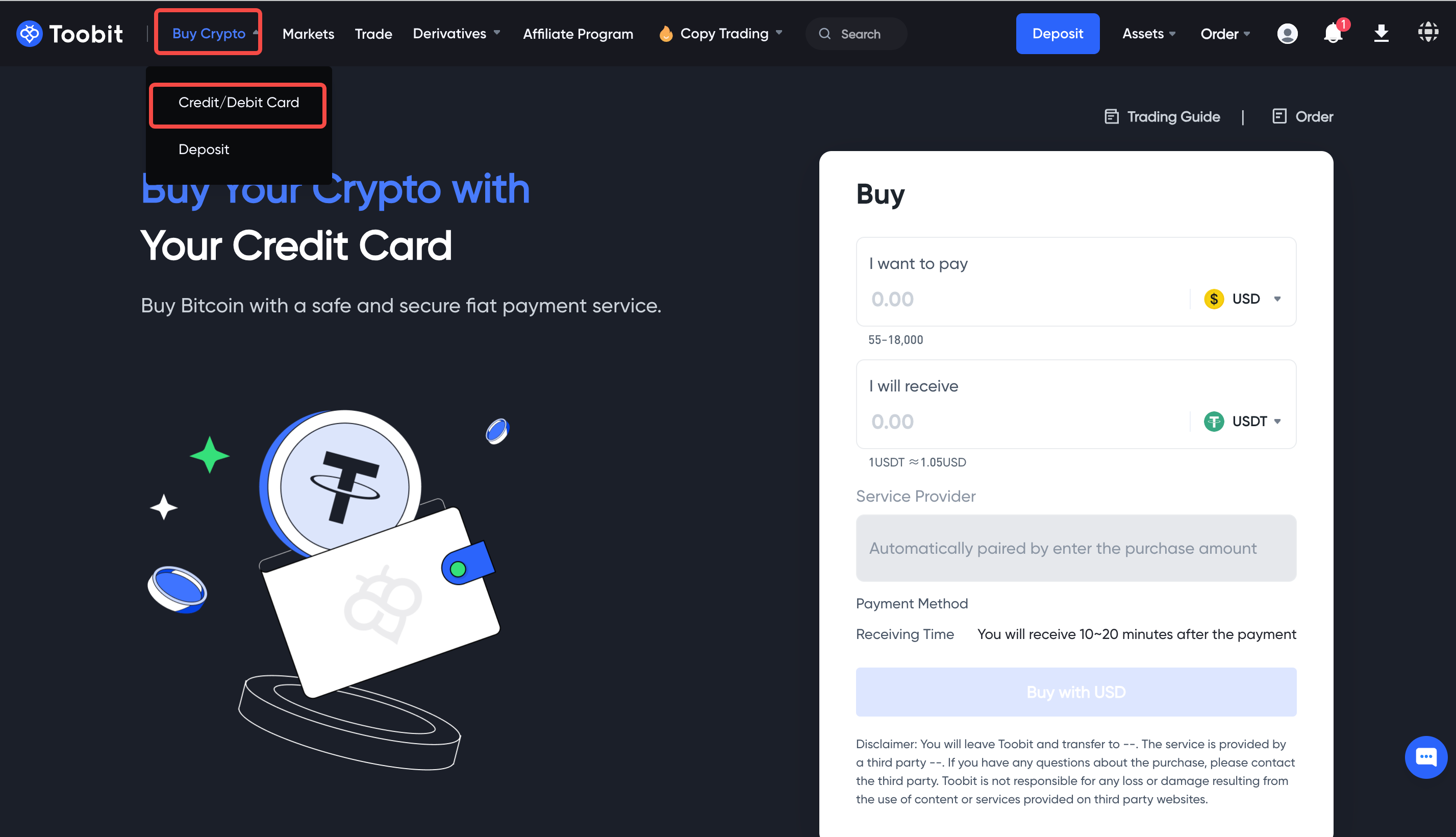 5. Perpetual Futures
Perpetual futures trading is a type of derivative product that allows you to trade Bitcoin (BTC) against Tether (USDT) without an expiration date. You can profit from both rising and falling markets. To start, click on [derivatives] on the homepage and choose either [USDT Perpetual] or [Lite Perpetual]. Then, select your desired leverage to amplify your potential gains while managing risks. Input your trade details and execute your trades. Remember to be cautious and start with an amount you can afford to lose.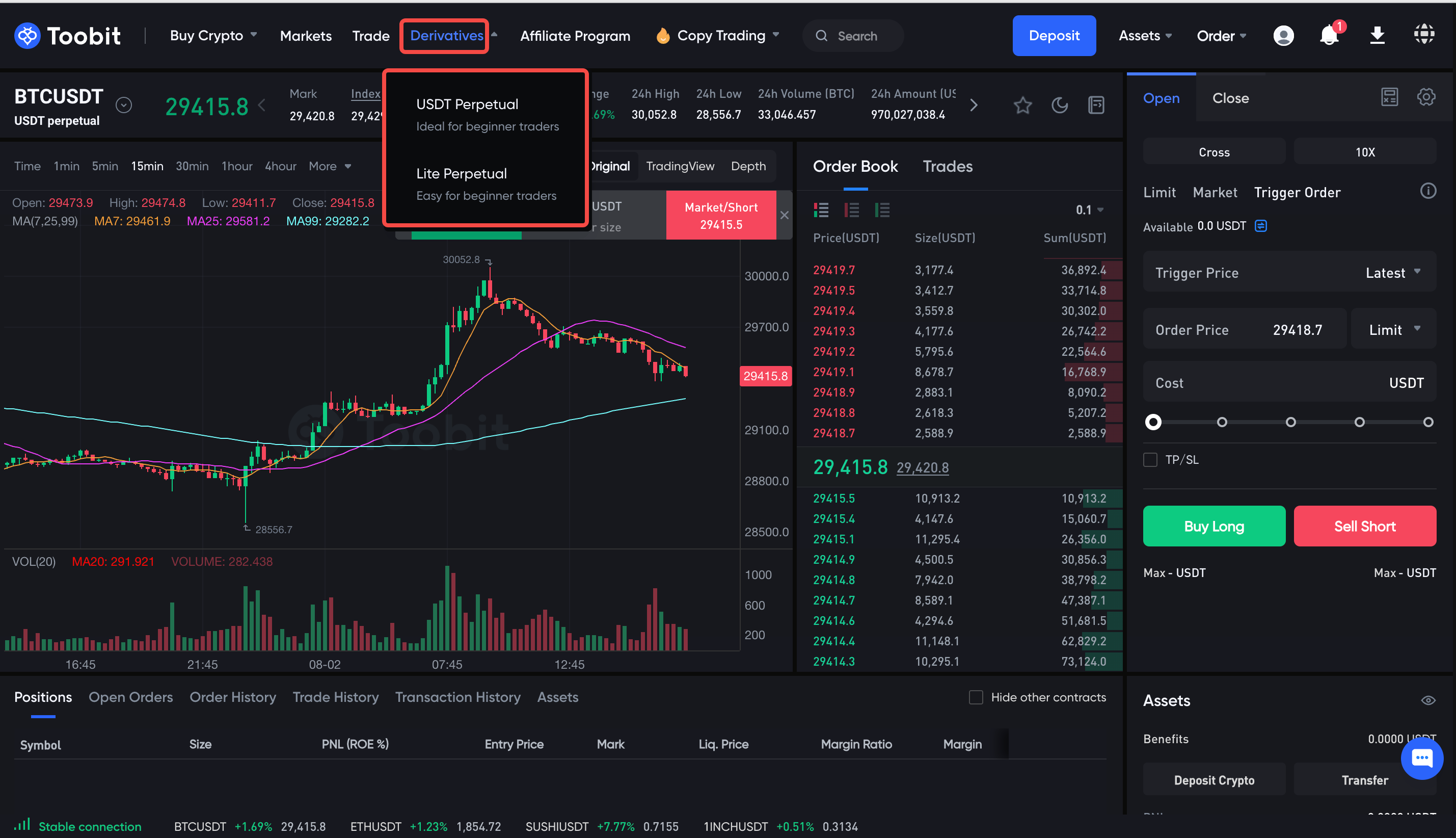 6. Rewards Hub
It's your go-to place for exciting tasks and amazing rewards. To access it, click on the avatar in the top-right corner of the homepage and select "Reward Hub." Explore tasks, earn rewards, and enjoy the benefits tailored to your interests.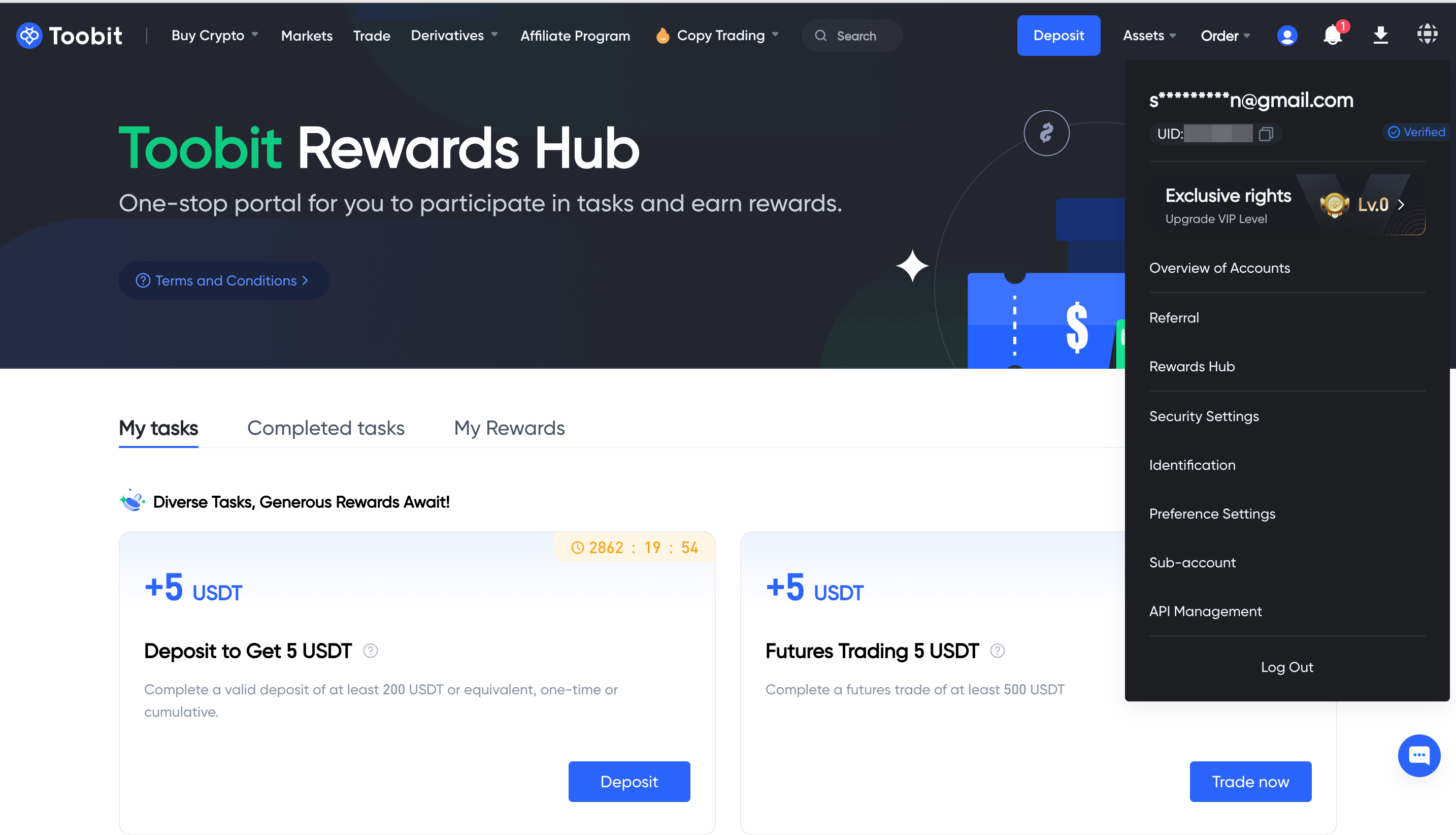 Should you have further questions, please feel free to contact support@toobit.com.