Toobit provides two primary methods for withdrawing funds: On-chain Transfer and Internal Transfer. Each method serves different purposes, and here's what you need to know about them:
1. On-chain Transfer:
On-chain transfers are traditional withdrawals that utilize blockchain technology. These are suitable for transferring your funds to external wallets or other platforms.
On-chain transfers involve blockchain transaction fees and may require additional verification steps.
2. Internal Transfer:
Internal transfers are designed for seamless and instant fund transfers between Toobit accounts. This method is ideal for quick transfers with no blockchain involvement.
Internal transfers are free of transaction fees and can be executed through account email, phone number, or UID.
Note: Ensure that the entered recipient account belongs to a Toobit account. Entering non-platform accounts will result in the inability to initiate the transfer. Entering incorrect account information may lead to funds being transferred to someone else's account, causing potential asset loss. Please exercise caution.
Withdrawal Steps
No matter which method you choose, the withdrawal process is straightforward:
On-chain Transfer:
1. Log in to your Toobit account
2. Click on "Assets" and choose the currency you want to withdraw. Using "USDT" as an example, click on "Withdraw".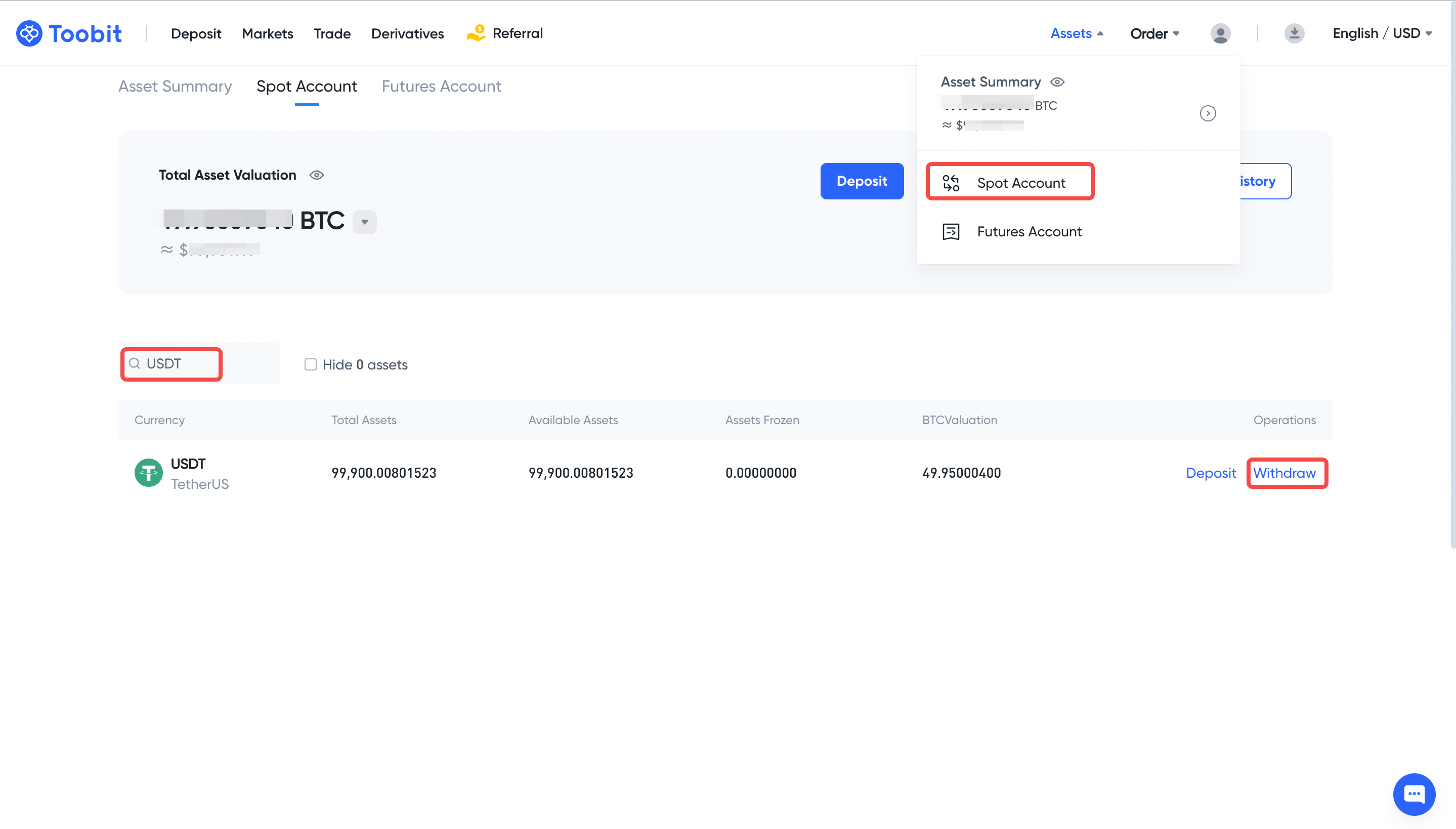 3. Input the amount and withdrawal address in which you want your USDT to be withdrawn to.
Click on "Withdraw"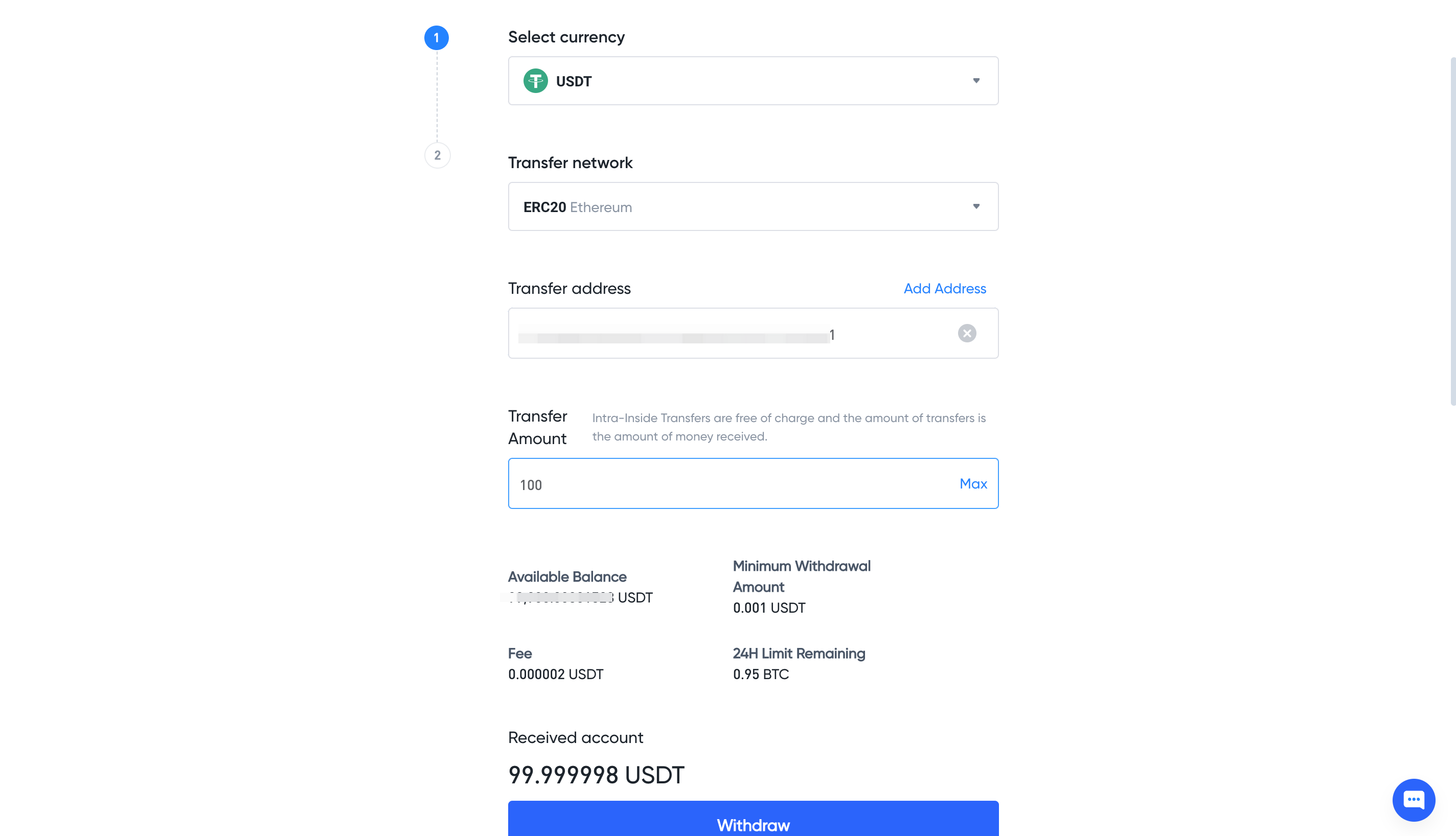 4. The security authentication screen will appear.
You will need to enter all of the verification codes, for every Two-factor Authentication method that you have set up on your account.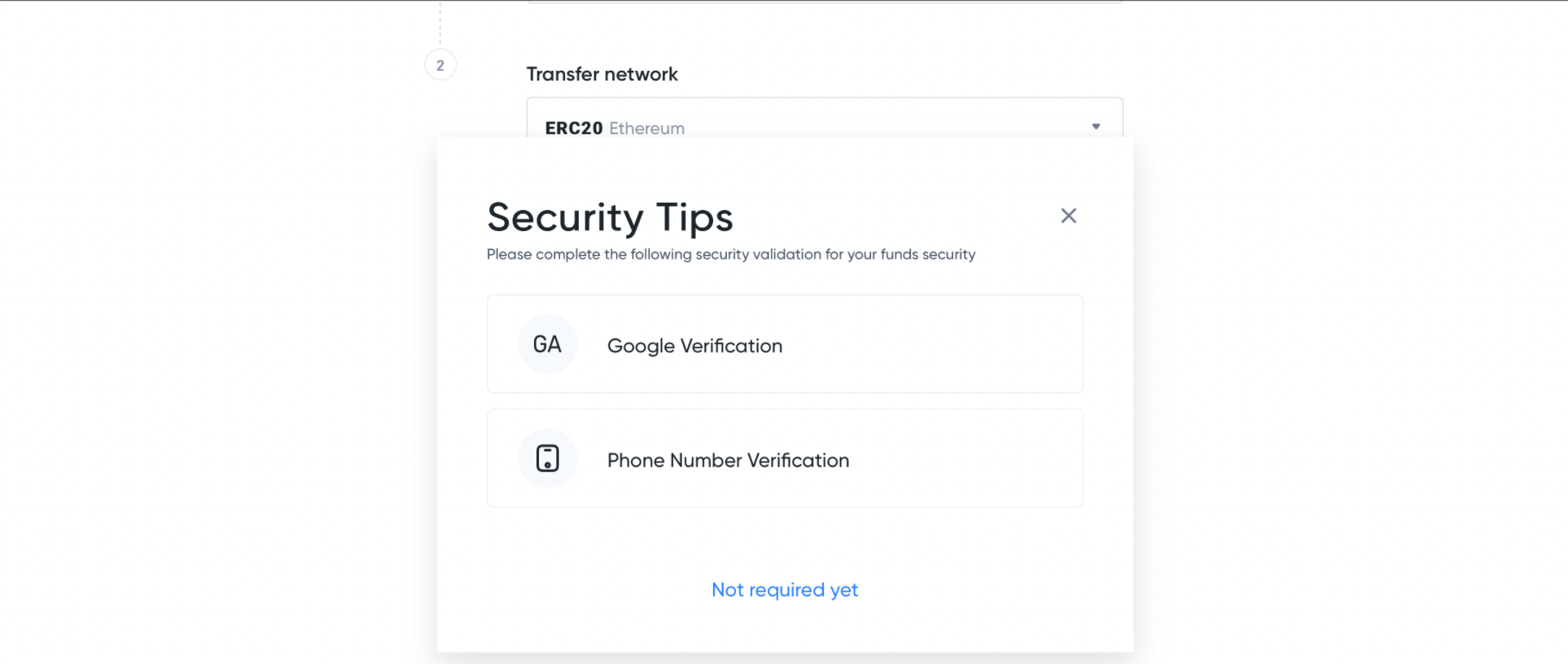 The screenshot below shows an account that has been setup with Email and Google Authenticator Two-factor Authentication as part of their account security. As such, the user is required to enter the Email Verification Code received in their Email, as well as the Google Authenticator Code before they can confirm the withdrawal.
5. confirm the potential risk warning: Make sure your selected address is correct. The transaction cannot be canceled once it's sent to the blockchain. Select" trust this address" to continue.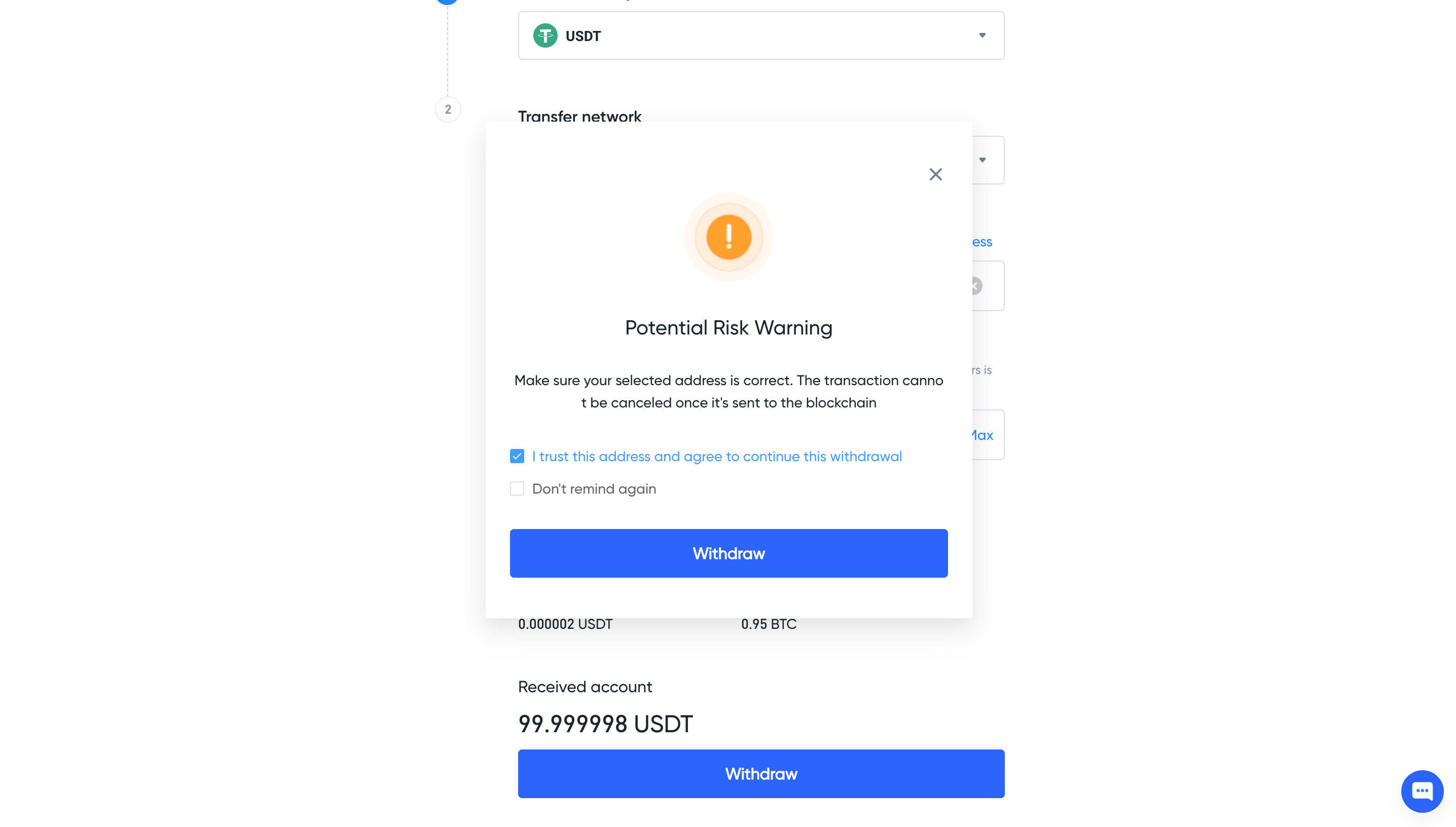 Click on "Withdraw"
Once the withdrawal request has been submitted. You will see a screen similar to the below.
You may track your transfers by searching the Txid on the block.


The status will be reflected as "Completed" once the withdrawal has been completed
IMPORTANT: In the case of coins such as USDT, where there are multiple chains supported (OMNI, ERC20), please select the appropriate chain before inputting the deposit address.
Only your USDT from the Ethereum network is compatible with your USDT-ERC20 address. Whilst, USDT coins from the Omni layer is only compatible with your USDT-Omni address. Sending your USDT coins to the incompatible address may result in the loss of your withdrawal.
As such, please check your destination wallet/exchange to confirm which network your withdrawal will transmit over and copy the appropriate deposit address as found in your destination wallet/exchange into your TooBit withdrawal page.
Internal Transfer:
Select the cryptocurrency you wish to transfer.
Choose the recipient's account type (email, phone, or UID).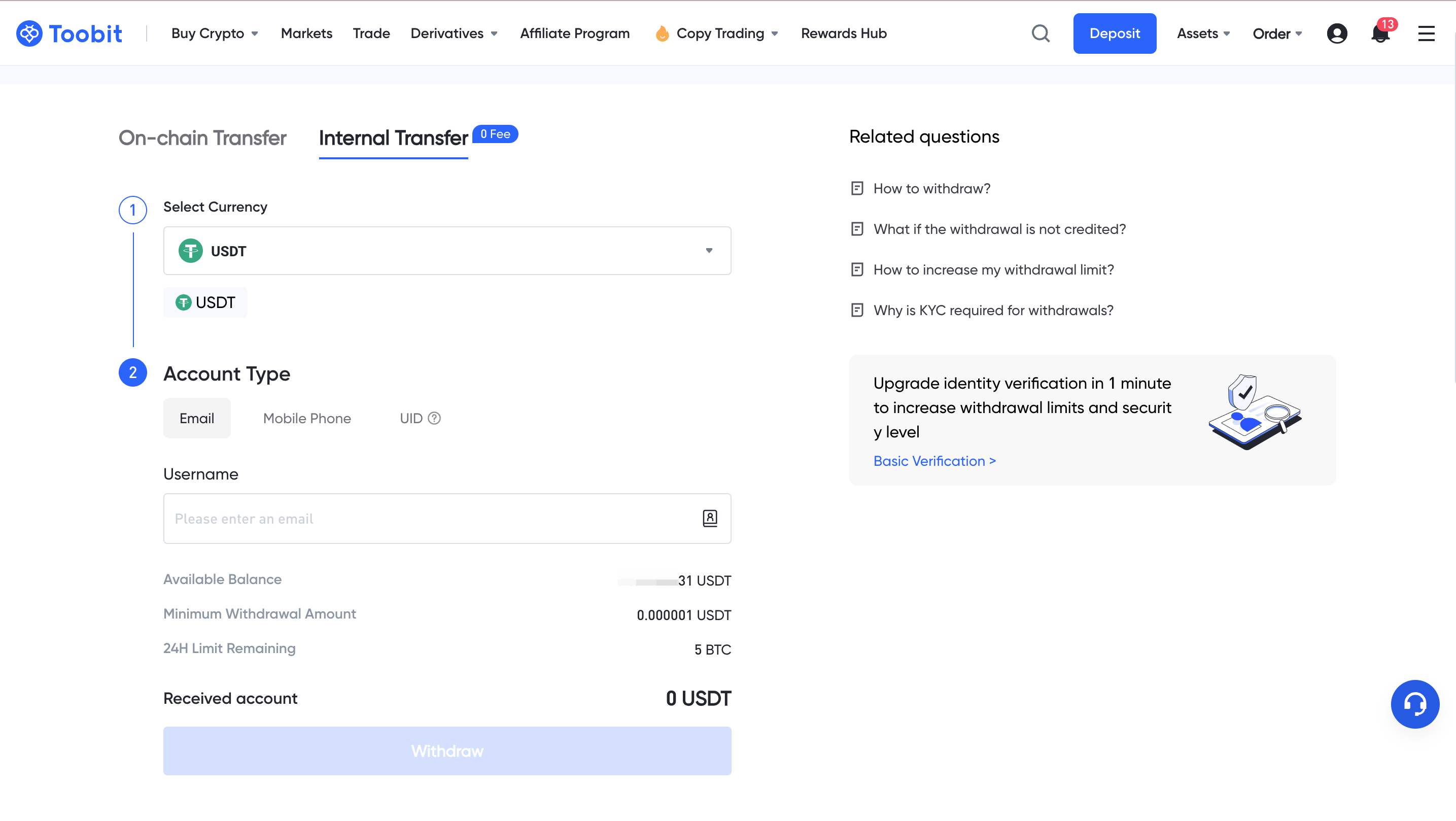 Confirm the transfer details.
Submit the transfer application for security verification.
Execute the transfer.
Important Considerations
Please take note of the following to ensure a smooth withdrawal and transfer process:
Ensure the accuracy of the recipient's wallet address, the selected blockchain network, and transfer network. This is especially important for cryptocurrencies with multiple chain options, like USDT. Sending funds to an incompatible address may result in loss.
For internal transfers, verify that the recipient's account information belongs to a Toobit account. Entering incorrect information may lead to funds being transferred to another account, potentially causing asset loss. Exercise caution.
If you encounter any issues or have questions during the withdrawal or transfer process, please don't hesitate to contact our customer support team.