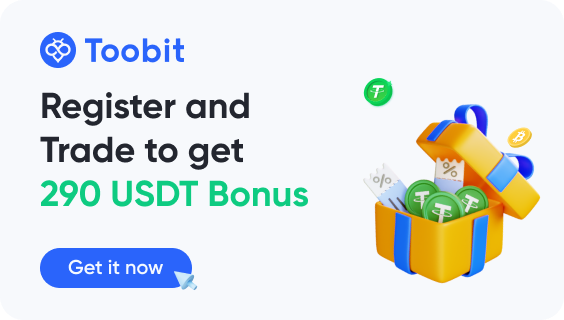 Join the campaign and win your prize with Toobit now!
During the campaign period, users who sign up and complete any one of the following tasks will receive the specified rewards.
In addition, old users can get extra rewards

Activity Period:
10:00 Mar 20, 2023(UTC)-10:00 April 10, 2023(UTC)
How to participate?
Web: https://www.toobit.com/en-US/futures-activity
Activity 1: Register and Get up to 210 USDT for New Users
1. During the period, You can receive a 5 USDT bonus voucher for free by only clicking the registration button to complete it! You will able to get an additional 5 USDT if pass the Basic verification.
*Only available for the first 1000 participants daily.
2. You will get an extra 10 USDT for every new user you invite and complete registration and pass Advanced verification.
*Each inviter can get a maximum 200 USDT bonus voucher.
Activity 2: Derivatives Trading Galore
The first 100 participants will be able to get get the corresponding bonus voucher when they trade derivatives, new registered users will have the chance to double their rewards if they hit the target within 72 hrs.
| | | | |
| --- | --- | --- | --- |
| Level | Level Trading Volume(USDT) | Bonus | Double Rewards |
| 1 | 500<X≤1,000 | 5 USDT | 5 USDT*2 |
| 2 | 1,000<X≤2,000 | 8 USDT | 8 USDT*2 |
| 3 | 2,000<X≤4,000 | 10 USDT | 10USDT*2 |
| 4 | >4,000 | 15USDT | 15USDT*2 |
Activity 3:Share the PNL poster to get up to 50USDT
During the campaign period, you will receive 5 USDT when sharing your position poster with a community of at least 2000people( submit your screenshots to
Google form
)
Activity 4: Up to 8 USDT for those who have registered before March 17
1. Users who registered an account before March 17 and participate in the Activity2-Derivatives Trading Galore will get an extra 5USDT bonus voucher
2. Users who registered an account before March 17 and participate in Activity 3-Share the PNL will get an extra 3USDT bonus voucher
Terms & Conditions:
1. The bonus Voucher is valid for 7 days from the date of distribution, and any unused part of the bonus at the expiration date will become invalid. Users are able to check the expiration date through"Profile"-"Reward Center".
2. Bonus Voucher can be used to deduct opening position costs of USDT-margined perpetual, not valid for trading fees, or funding fees.
3. The Bonus Voucher supports market order and limit order only. Not able to use for Trigger Order.
4. Bonus will be deducted first to offset the loss of closing a position. The principal will be deducted when the bonus is insufficient.
5. Participants need to share their Toobit PNL with the active communities, and Toobit will verify and make judgments on the community before distributing the rewards.
6. The inviter can get a 10 USDT bonus voucher when Invitees register and complete KYC2, the $200 maximum reward is per inviter.
7. Sub-account, Institutional accounts, and market makers are not eligible for this event.
8. Toobit reserves the right to disqualify any participants who engage in dishonest or abusive activities during the event, including bulk-account registrations to farm additional bonuses and any other activities in connection with unlawful, fraudulent, or harmful purposes.
9. Toobit reserves the right to modify the terms of this event without notifying users in advance.
10. Toobit reserves the right to the final interpretation of this event. If you have any questions, please contact support@toobit.com
Toobit reserves the right in its sole discretion to amend or cancel this announcement at any time and for any reason without prior notice.
Risk Warning: Digital asset prices can be volatile. The value of your investment may go down or up and you may not get back the amount invested. You are solely responsible for your investment decisions and Toobit is not liable for any losses that might arise from your use of Margin. This information should not be regarded as financial or investment advice. For more information, see ourTerms of UseandRisk Warning.