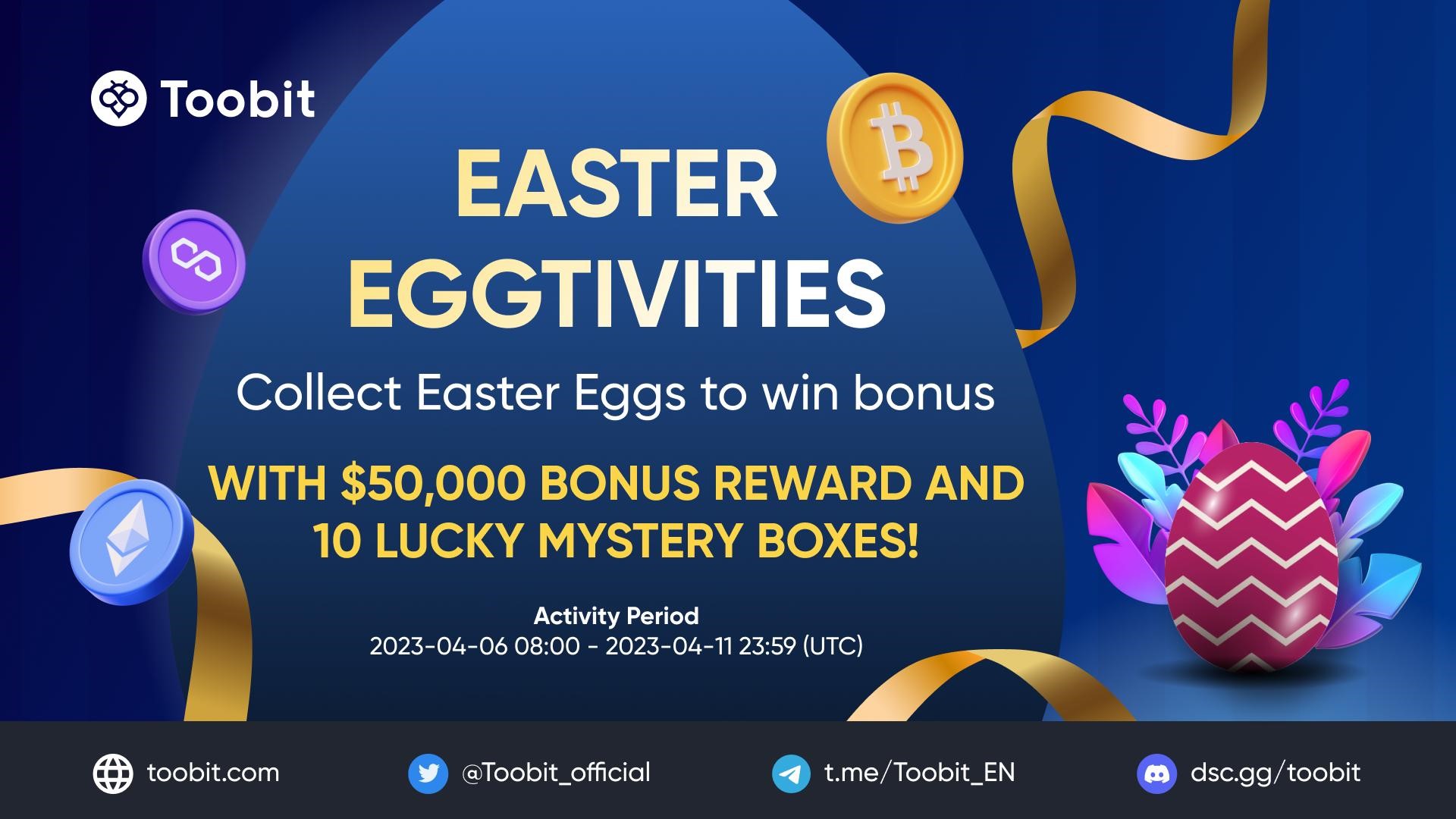 Dear Toobiters,
We have the greatest news for all of you to celebrate Easter Day!
During the activity period, Toobit will last for 5 days in the 'Hidden Easter Egg'. Just complete tasks for a chance to win the rewards.
Activity Period
2023-04-06 08:00 - 2023-04-11 23:59 (UTC)
How to Participate?
Activity 1: Hunt Easter Eggs to Share a 50,000 USDT Bonus!
These easter eggs are hidden in different banners, including Toobit's official website, Discord, Twitter, Medium, Telegram, Reddit, and Facebook.
Just find them and submit your UID to Google Form and you will get a 5 USDT bonus Voucher.
Share on Twitter using the hashtag #ToobitEasterHunt and get extra 5USDT bonus voucher
For Example:
Find those hidden eggs on the banners and collect the screenshots and upload them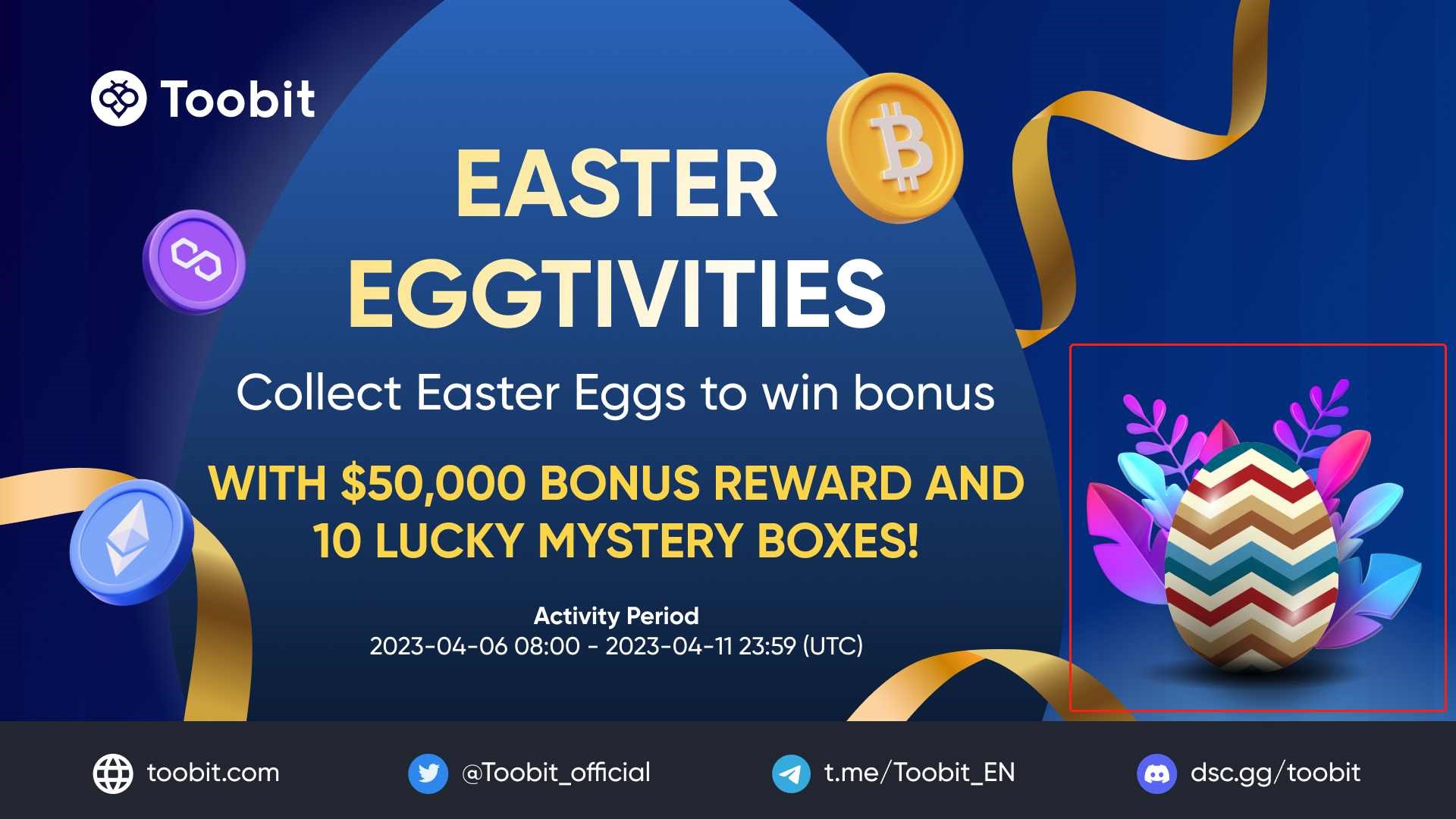 Activity 2: Trade to win Lucky Mystery Airdrop
10 lucky draw winners will be randomly selected to be rewarded with $10 worth USDT of Mystery Airdrop for users who accumulated a trading volume of $300 with futures trading on Toobit, First come, first served for the first 10 users
Terms and conditions:
1. The rewards corresponding to Activity 2 will be distributed after you complete the cumulative futures
2. The bonus Voucher is valid for 7 days from the date of distribution, and any unused part of the bonus at the expiration date will become invalid. Users are able to check the expiration date through"Profile"-"Reward Center".
3. Bonus Voucher can be used to deduct opening position costs of USDT-margined perpetual, not valid for trading fees, or funding fees.
4. The Bonus Voucher supports market order and limit order only. Not able to use for Trigger Order.
5. Bonus will be deducted first to offset the loss of closing a position. The principal will be deducted when the bonus is insufficient.
6. Sub-accounts, Institutional accounts, and market makers are not eligible for this event.
7. All the rewards will be distributed to eligible user accounts within 7 working days after the event ends. Toobit will notify the user via email, and the user can also log in to the account to enter the "Profile"- "Reward Hub" to check the status.
8. Toobit reserves the right to disqualify any participants who engage in dishonest or abusive activities during the event, including bulk-account registrations to farm additional bonuses and any other activities in connection with unlawful, fraudulent, or harmful purposes.
9. Toobit reserves the right to modify the terms of this event without notifying users in advance.
10. Toobit reserves the right to the final interpretation of this event. If you have any questions, please contact
support@toobit.com
Find us on:
Toobit reserves the right in its sole discretion to amend or cancel this announcement at any time and for any reason without prior notice.
Risk Warning: Digital asset prices can be volatile. The value of your investment may go down or up and you may not get back the amount invested. You are solely responsible for your investment decisions and Toobit is not liable for any losses that might arise from your use of Margin. This information should not be regarded as financial or investment advice. For more information, see our Terms of Use and Risk Warning.