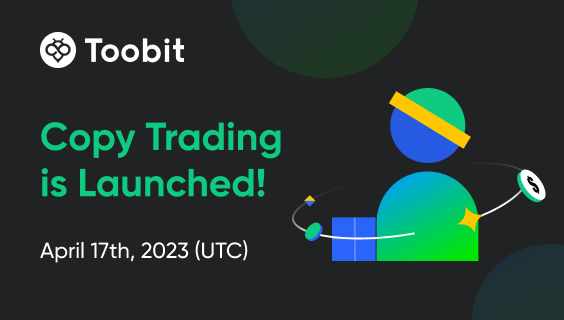 Toobit Copy Trading offers a simple and transparent way to follow trading strategies, making it a win-win experience for both seasoned traders and new-to-trading followers.

It's time to share this good news and Invite your friends to join as a Pro Trader and you will able to get up to 550USDT rewards
| | |
| --- | --- |
| Reward Category | Your rewards |
| 1. Become Toobit's pro trader | $50 |
| 2. Invite other pro Traders | $500 |
| 3. Earn 15% commission from followers | No limit |
Event period: April 18, 2023, 10 AM UTC – May 17, 2023, 10:00 PM UTC
How to participate?
If you meet the following criteria, you will be able to get the Pro-Traders' Rewards
Activity1: Become a pro-Trader to receive 50USDT
Toobit has launched a Copy Trading function that will increase the popularity and recognition of your strategy. Just follow the step-by-step guide, submit the application, and become the new expert on our copy trading platform and earn up to 15% in commissions.
Once your application is approved, you will get 50 USDT rewards in your account.
Activity2: Invite Other Pro Traders and earn up to 500 USDT
You will receive up to a 500USDT reward if you meet the following criteria. The more Pro- Traders you invite, the higher your reward!
| | |
| --- | --- |
| No. of Pro-Traders Invited | Rewards(USDT) |
| 1 pro trader invited | $30 |
| 3 pro traders invited | $100 |
| 5 pro traders invited | $200 |
| 10 pro traders invited | $500 |
*The reward amount can not be stacked.
Q&A:
What is your definition of a qualified pro trader?
Achieve a win rate of at least 30% or PNL>30%, and achieve more than 60% P&L during the event period

Open and close at least 7 positions per week

Pass the Advanced verification with your account
How many trading pairs are allowed to access?
Currently, support BTC, ETH, BNB, LTC, and DOGE trading pairs. If you need other trading pairs,
please contact copytrading@toobit.com, may adjust according to actual conditions.
What are the benefits for Pro-Traders?
20% Taker fee discount

Incentives on follower's profit: 15% of total profit

Higher affiliate earnings from increased volume (50%)
Terms and conditions:
For tasks with tiered rewards, if you meet the conditions of more than one tier, you will only receive the highest-tier reward for each task.

Taker Fee 20% rebate will be returned to your spot account 3 days after the event ends.

Bonus Voucher can be used to deduct opening position costs of USDT-margined perpetual, not valid for trading fees, or funding fees.

The Bonus Voucher supports market order and limit order only. Not able to use for Trigger Order.

Bonus will be deducted first to offset the loss of closing a position. The principal will be deducted when the bonus is insufficient.

Sub-accounts, Institutional accounts, and market makers are not eligible for this event.

All the rewards will be distributed to eligible user accounts within 7 working days after the event ends. Toobit will notify the user via email, and the user can also log in to the account to enter the "Profile"- "Reward Hub" to check the status.

Toobit reserves the right to disqualify any participants who engage in dishonest or abusive activities during the event, including bulk-account registrations to farm additional bonuses and any other activities in connection with unlawful, fraudulent, or harmful purposes.

Toobit reserves the right to modify the terms of this event without notifying users in advance.

Toobit reserves the right to the final interpretation of this event. If you have any questions, please contact

support@toobit.com
Toobit reserves the right in its sole discretion to amend or cancel this announcement at any time and for any reason without prior notice.
Risk Warning: Digital asset prices can be volatile. The value of your investment may go down or up and you may not get back the amount invested. You are solely responsible for your investment decisions and Toobit is not liable for any losses that might arise from your use of Margin. This information should not be regarded as financial or investment advice. For more information, see ourTerms of UseandRisk Warning.