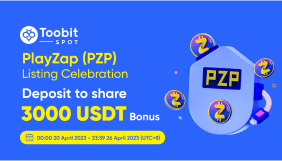 To celebrate PlayZap(PZP) being listed on Toobit, and to welcome all PZP holders and traders, a 3,000 USDT bonus will be up for your grabs in this deposit campaign.
Event Duration:

00:00 20 April 2023 - 23:59 26 April 2023 (UTC+8)
How to participate?
Complete your deposit during the campaign period by following the rules below:
Deposit(*net deposit) of at least 100 PZP to your Toobit account.

The more you deposit and hold, the more rewards you can get by the end of the campaign.
All users who deposit more than 100 PZP will be qualified for the campaign. Your PZP Reward = $3000 * Your Net Deposit / Total Net Deposit of All
PlayZap(PZP) Listing Details:
Terms & Conditions:
Net Deposit Amount = Deposit Amount-Withdrawal Amount, excluding the trading amount.

The bonus Voucher is valid for 7 days from the date of distribution, and any unused part of the bonus at the expiration date will become invalid. Users are able to check the expiration date through"Profile"-"Reward Center."

Bonus Voucher can be used to deduct opening position costs of USDT-margined perpetual, not valid for trading or funding fees.

The Bonus Voucher supports market order and limit order only. Not able to use for Trigger Order,

Bonus will be deducted first to offset the loss of closing a position. The principal will be deducted when the bonus is insufficient.

Only users who accumulate a deposit volume of at least 100 PZP between April 20, 2023, 00:00 to April 26, 2023, 23:59 PM UTC+8 will be eligible for rewards.

Institutional users and market makers are not eligible for this event.

The main account only (one user can only participate in the campaign once, activities such as sub-account or multiple accounts will be disqualified for the campaign).

Rewards will be distributed within 5 working days of the campaign ends.

Toobit reserves the right to disqualify trades that are deemed to be illegally bulk-registered accounts.

Toobit reserves the right at any time in its sole and absolute discretion to determine or amend or vary these terms and conditions without prior notice, including but not limited to canceling, extending, terminating, or suspending this promotion, the eligibility terms and criteria, the selection and a number of winners, and the timing of any action to be done, and all participants shall be bound by these amendments.

Where any discrepancy arises between the translated and original versions, the English version shall prevail.
Toobit reserves the right in its sole discretion to amend or cancel this announcement at any time and for any reason without prior notice.
Risk Warning: Digital asset prices can be volatile. The value of your investment may go down or up and you may not get back the amount invested. You are solely responsible for your investment decisions and Toobit is not liable for any losses that might arise from your use of Margin. This information should not be regarded as financial or investment advice. For more information, see ourTerms of UseandRisk Warning.