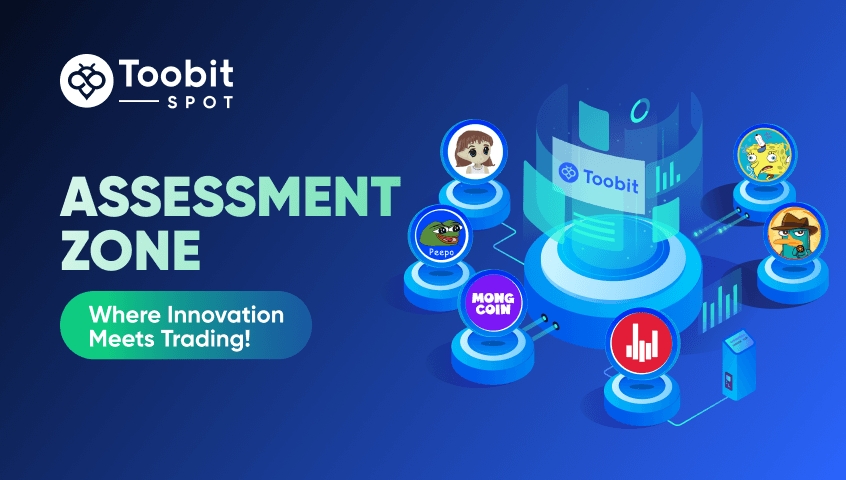 Dear Toobit Users,
We are thrilled to announce the launch of a new trading zone on our platform - the Assessment Zone. The Assessment Zone is specifically designed to cater to the trading of popular innovative assets. However, it is important to note that these assets come with a higher level of risk. In this announcement, we would like to introduce the Assessment Zone and provide you with risk guidelines to ensure a safe trading experience.
The Assessment Zone is a dedicated trading area where users can engage in transactions involving cutting-edge and emerging assets. These assets could include cryptocurrencies, blockchain projects, tech startups, and other innovative ventures. We understand that many of our users are passionate about exploring the potential of these new technologies and investment opportunities, which is why we have created this specialized trading zone.
It is crucial to recognize that investing in innovative assets involves a higher level of risk compared to traditional investments. The Assessment Zone is designed for experienced traders who are willing to accept these risks and have a comprehensive understanding of the potential rewards and challenges associated with these assets. We strongly advise users to conduct thorough research, carefully analyze the assets' fundamentals, and assess their risk tolerance before engaging in any transactions within the Assessment Zone.
To ensure the safety and protection of our users, we have implemented several risk management measures within the Assessment Zone. These measures include enhanced monitoring and surveillance systems, as well as additional compliance requirements for participating in this trading zone. We continuously evaluate the assets listed in the Assessment Zone to maintain a high standard of quality and reduce the potential exposure to fraudulent or malicious projects.
At Toobit, we are committed to providing a secure and transparent trading environment. As part of this commitment, we will consistently assess the projects listed in the Assessment Zone. If a listed asset no longer meets our stringent standards or fails to comply with our evaluation criteria, we reserve the right to delist the asset from the Assessment Zone. This proactive approach ensures that only high-quality assets with significant potential remain available for trading within this zone.
Furthermore, we strongly recommend that users diversify their portfolios and avoid allocating a significant portion of their investments solely to the Assessment Zone. Diversification is a key risk management strategy that can help mitigate potential losses and maintain a more balanced investment approach.
If you have any questions or require further assistance regarding the Assessment Zone or risk management strategies, please do not hesitate to reach out to our customer support team. We are dedicated to providing our users with an exceptional trading experience and striving to ensure that you receive high-quality trading services.
Happy trading and best regards,
Toobit Team
2023-6-1
Toobit reserves the right in its sole discretion to amend or cancel this announcement at any time and for any reason without prior notice.
Risk Warning: Digital asset prices can be volatile. The value of your investment may go down or up and you may not get back the amount invested. You are solely responsible for your investment decisions and Toobit is not liable for any losses that might arise from your use of Margin. This information should not be regarded as financial or investment advice. For more information, see ourTerms of UseandRisk Warning.