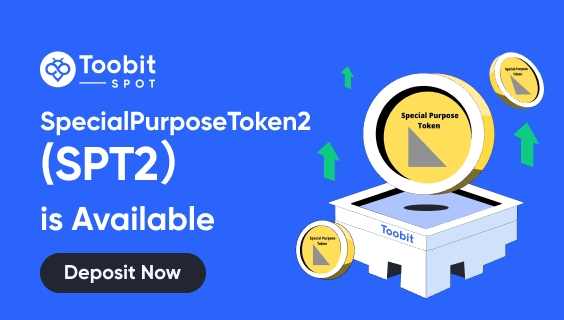 Dear Valued User,
Toobit is pleased to announce the deposit of SPT2 is available now. Trading of SPT2 will be listed according to the following schedule:
Spot trading for SPT2/USDT: 2023-06-08 10:00 (UTC)
SPT2 withdrawal opens: Stay tuned
Transfer network: ERC20
About SpecialPurposeToken2(SPT2)
SPt2 is an asset backed erc20 utility token and not a security, therefore it is not registered as a security in any venue, tertritory and jurisdiction.
Asset name: SpecialPurposeToken2
Ticker: SPT2
With this new addition, we hope to provide our users with even more trading options and opportunities. Our platform continues to offer low fees, fast transaction speeds, and 24/7 customer support to ensure that your trading experience is smooth and enjoyable. Thank you for choosing us for your trading needs. We will continue to work hard to provide the best platform possible for cryptocurrency enthusiasts.
Toobit
2023-06-07
Toobit reserves the right in its sole discretion to amend or cancel this announcement at any time and for any reason without prior notice.
Risk Warning: Digital asset prices can be volatile. The value of your investment may go down or up and you may not get back the amount invested. You are solely responsible for your investment decisions and Toobit is not liable for any losses that might arise from your use of Margin. This information should not be regarded as financial or investment advice. For more information, see ourTerms of UseandRisk Warning.