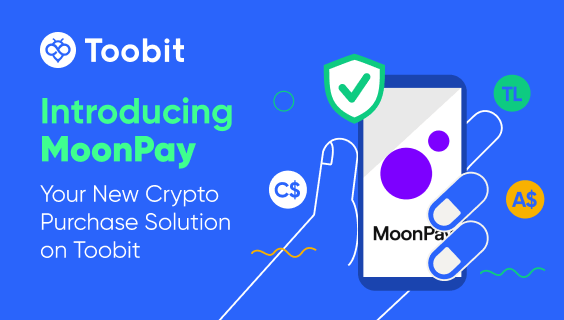 Dear Toobit Users,
We are excited to introduce a new enhancement to our
Credit Card Payment service
, and we believe this update will greatly enhance your experience when purchasing cryptocurrencies. We have partnered with the renowned third-party service provider, MoonPay, to expand your options and provide you with an even more seamless and diverse payment experience.
Introducing MoonPay: Revolutionizing Crypto Transactions
MoonPay is a financial technology company at the forefront of the cryptocurrency payment revolution. Their innovative suite of on-and-off-ramp solutions streamlines the process of converting between fiat currencies and cryptocurrencies. With a comprehensive range of payment methods, including debit and credit cards, local bank transfers, Apple Pay, Google Pay, and Samsung Pay, MoonPay ensures a hassle-free experience for users across the globe.
A Multitude of Fiat Currencies Supported
We are also thrilled to announce that, thanks to MoonPay's integration, Toobit now supports an extensive selection of fiat currencies. You can now use currencies such as Turkish Lira (TRY), Australian Dollar (AUD), Canadian Dollar (CAD), and many more. In fact, we now offer over forty fiat currencies, allowing you to choose the one that suits you best.
Simplified Purchases: Your Way
Toobit offers a variety of purchasing channels to accommodate your preferences. You can choose from MoonPay, Simplex, and Advcash. Our platform has been designed to make your purchasing process as straightforward as possible. Simply select your preferred fiat currency and cryptocurrency type, input the quantity you wish to purchase, and our system will automatically recommend the optimal purchasing solution. Of course, for those who prefer a hands-on approach, you can manually select your preferred service provider.
About MoonPay
MoonPay's reputation as a leading payments infrastructure provider for cryptocurrencies precedes it. Trusted by more than 300 leading wallets, websites, and applications, MoonPay is active in over 160 countries. Their solutions enable secure payments and effectively combat fraud, offering peace of mind to both users and service providers. For more information:
https://www.moonpay.com/
.
In Conclusion
We are confident that the addition of MoonPay and the extended range of supported fiat currencies will elevate your cryptocurrency purchasing experience on Toobit. Our commitment to delivering cutting-edge solutions remains unwavering, and we look forward to seeing how this update enhances your trading journey.
Thank you for choosing Toobit as your cryptocurrency platform. As always, if you have any questions or require assistance, feel free to reach out to our dedicated customer support team.
Happy trading!
Sincerely,
Toobit Team
Toobit reserves the right in its sole discretion to amend or cancel this announcement at any time and for any reason without prior notice.
Risk Warning: Digital asset prices can be volatile. The value of your investment may go down or up and you may not get back the amount invested. You are solely responsible for your investment decisions and Toobit is not liable for any losses that might arise from your use of Margin. This information should not be regarded as financial or investment advice. For more information, see ourTerms of UseandRisk Warning.