Toobit offers 3 different types of bonus vouchers on our platform. These bonus vouchers provide users with enhanced trading opportunities and a chance to explore different strategies while minimizing financial risks. We highly encourage our users to branch out and try new trading styles and strategies with our free bonus vouchers.
Here are the 3 types of bonus vouchers Toobit offers:
1. Zero-Cost Bonus Voucher
Users can use this voucher immediately without worrying about having to perform any prior tasks.

This voucher can be used for derivatives trading without any principal.
2. Non Zero-Cost Bonus Voucher
Users can not use this voucher immediately and will need to perform a prior task.

To use this voucher, users will need to transfer some assets to Futures account
What Are The Differences Between the Zero-cost Bonus Voucher and the Non Zero-cost Bonus Voucher?

When observing the bonus vouchers, make sure to read the fine print below.

For vouchers that are Zero-Cost, the text will read, "Trade with 0 cost". Therefore, users do not need to spend any money and can use the bonus vouchers immediately.

For vouchers that are Non Zero-Cost, the text will read, "To open a position, pay 0.4 USDT". Therefore, users will need to open a position with the stated amount before being able to use the bonus voucher.

Note that the amount you will need to transfer funds to use a Non Zero-Cost voucher may change depending on the amount of your bonus voucher. For this example, we have used 0.4 USDT, but please know that it may reflect differently in your account.
3. Copy Trading Bonus Voucher
Unlike the previous bonus vouchers, the Copy Trading Bonus Vouchers can only be used for copy trading. Therefore, users cannot use these vouchers for derivatives trading.

When users follow a pro trader, they can choose to use the bonus voucher when setting the copy trading information.

This bonus voucher can not be used to add investments, only to copy trade.
How to Claim My Bonus Vouchers?
Here is a step-by-step guide on how to claim your Bonus Vouchers on Toobit:
Log onto Toobit and click on the avatar in the upper right corner and click on the Reward Hub in the drop-down list.
Users will be redirected to the Toobit Reward Hub. In the section labelled My Tasks, users will be able to see the tasks that, once completed, will earn you a bonus.

All the rewards will be distributed to eligible user accounts within 3 working days after the events end.

Users can click on the My Rewards tab and see the bonuses and airdrops that have been distributed to their account.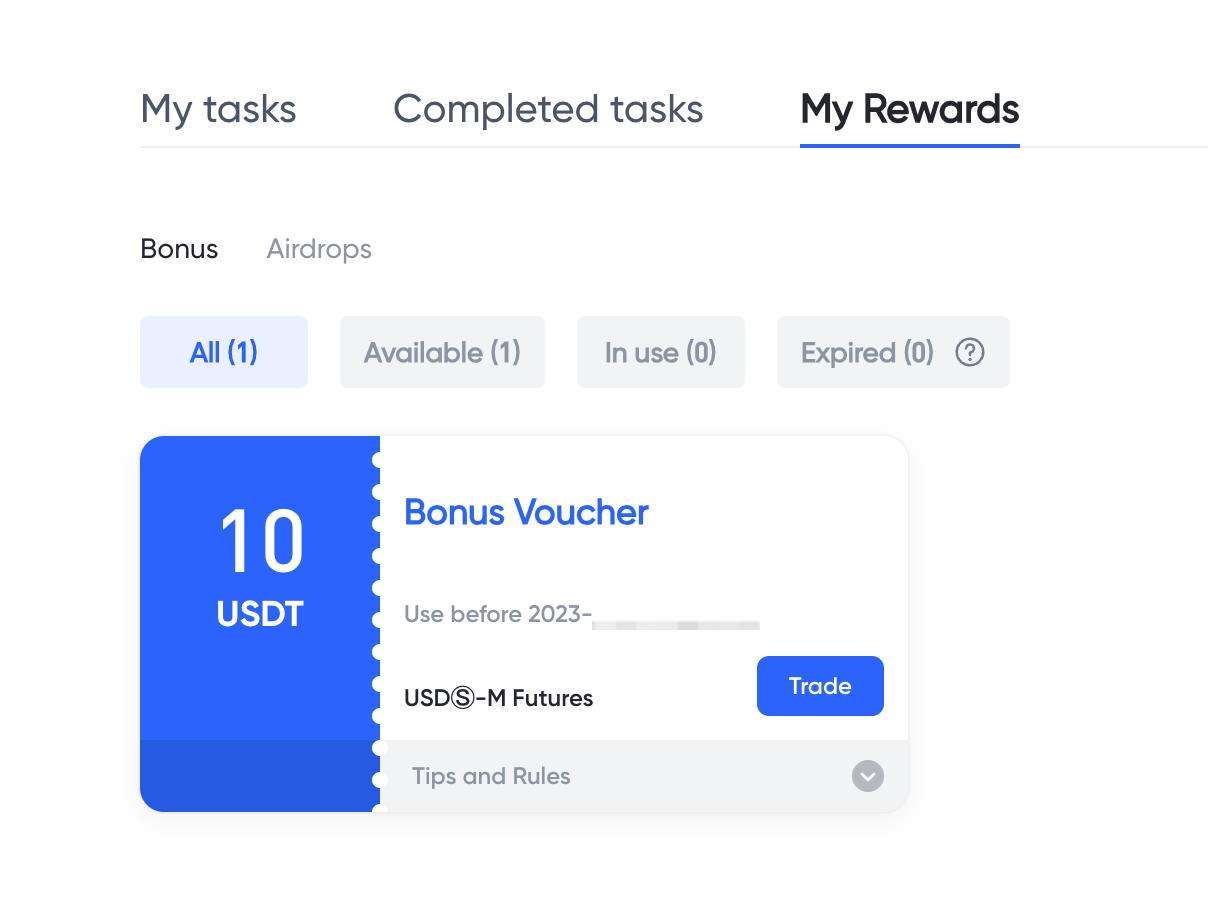 Available: The bonus vouchers that are still available and unexpired, users can click "Trade" to use.

In Use: The bonus voucher that users are currently using.

Expired: The bonus vouchers that have expired or closed positions.
**Please Note
Users cannot click on expired bonus vouchers.

The Reward Center will only show the expired bonus voucher for one week.

Users cannot combine vouchers to extend expiration dates.

Only one bonus voucher can be used at a time.
Terms and Conditions
If the bonus voucher can be applied, then the interface will display the bonus voucher options. If all bonus vouchers are invalid, then the option will not be displayed.

Bonus vouchers can be used to deduct the derivatives trading fee, funding fee, and closing PNL.

The bonus voucher cannot be used to trigger orders.

The bonus vouchers will be given priority for closing position losses to be offset. The part of the bonus voucher that is insufficient to offset will be offset by the principal.

Users can use the bonus voucher to set limit orders and cancel it before executed. If the bonus voucher has not expired, then it will be returned to the reward center and the status will be "available". If the bonus voucher has expired, it cannot be returned, therefore the status will be "expired".

The bonus voucher cannot be transferred out, but the profit through the derivatives can be transferred to users' spot account.

After choosing the corresponding bonus voucher to open position, the leverage will be automatically adjusted based on the bonus voucher. Other leverages cannot be used to place orders.

The bonus voucher cannot be used for sub-accounts.

The bonus voucher will expire after closing the position.
At Toobit, we are committed to fostering a supportive trading environment and providing our valued traders with innovative tools and features. The introduction of these experience bonuses reinforces our dedication to promoting learning, aiding in the development of trading skills, and enriching your overall trading journey.
Stay tuned for further announcements and updates regarding our experience bonuses, as we continuously strive to enhance your trading experience. Should you have any questions or require assistance, please do not hesitate to reach out to our customer support team.
Thank you for choosing Toobit as your preferred trading platform. We look forward to empowering and supporting your trading endeavors.
Disclaimer: Cryptocurrencies are subjected to high market risk and volatility despite high growth potential. Users are strongly advised to do their research and invest at their own risk. Toobit will do its best to list only high-quality coins but will not be responsible for your investment losses.