Dear Toobit User,
We are thrilled to announce that Decentrawood (DEOD) will soon be available on August 28!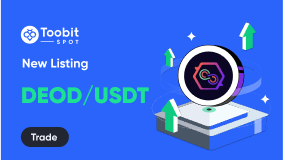 Here are some key details about the DEOD/USDT Spot trading schedule:
Spot trading for DEOD/USDT: 10:00 am August 28th 2023 (UTC})
Withdrawal of DEOD: Stay tuned
Deposit of DEOD: Available Now!
Transaction Network: Polygon
About Decentrawood (DEOD)
The Decentrawood project is an ambitious initiative to create a metaverse platform that leverages blockchain, virtual reality, and artificial intelligence technologies to simulate the evolution of human civilization. The platform allows users to create, own, and monetize their own user-generated content, including buildings, objects, animations, and even games.
DEOD is the native token of Decentrawood, which is used for all transactions on the platform. The token has limited supply, with new tokens becoming available for minting over a period of three years. Additionally, 50% of the DEOD earned by the platform is burned, which could potentially increase the value of the token.
Contract address: https://polygonscan.com/token/0xe77abb1e75d2913b2076dd16049992ffeaca5235
Website: https://www.decentrawood.com/
Whitepaper: https://www.decentrawood.com/assets/pdf/WhitePaper.pdf
Twitter: https://twitter.com/decentrawood_
With this new addition, we hope to provide our users with even more trading options and opportunities. Our platform continues to offer low fees, fast transaction speeds, and 24/7 customer support to ensure that your trading experience is smooth and enjoyable. Thank you for choosing us for your trading needs. We will continue to work hard to provide the best platform possible for cryptocurrency enthusiasts.
Toobit
2023.08.22
More Listing Information:
Toobit reserves the right in its sole discretion to amend or cancel this announcement at any time and for any reason without prior notice.
Risk Warning: Digital asset prices can be volatile. The value of your investment may go down or up and you may not get back the amount invested. You are solely responsible for your investment decisions and Toobit is not liable for any losses that might arise from your use of Margin. This information should not be regarded as financial or investment advice. For more information, see ourTerms of UseandRisk Warning.