Dear Toobit users,
We have received concerning reports that scammers are using phishing websites to attract our loyal Toobit users. We would like to urgently stress that we have only
one official domain: www.toobit.com
We urge our users to be vigilant and to pay very close attention to the URL of our website. It is the key in spotting fake, scamming, phishing websites. These malicious alternative websites may look identical to ours, but the URL will use a variation in spelling or a different domain entirely. Therefore, it is crucial for you to be aware of these scams.
DO NOT RESPOND, REPLY, OR CLICK ON ANY LINKS AND/OR IMAGES ON THESE PHISHING WEBSITES. Your credentials may be compromised if you do so.
Saw something suspicious on Toobit? When in doubt, always contact our online
Customer Support
. We are constantly working to improve our services for you to have a smooth experience using our platform.
Why Should I Avoid Phishing Websites?
Scammers will attempt to fool you with tricks to access their illegitimate websites, but you can expose their ways and avoid this.
The end goal of these phishing websites is to steal information. When you access a phishing website without checking the URL, you might unwittingly enter personal information that will be transmitted directly to the scammer who created the site. The scammer can then use this information to steal your identity, misappropriate funds or worse.
Therefore, it is crucial that you are aware of these tactics.
Ways to Protect Yourself from Phishing Scams
There are several steps that you can take as a Toobit user to avoid falling prey to these malicious phishing tactics from scammers.
Enable "Anti-Phishing Code" in the Advanced Settings under Security Settings of your Toobit account.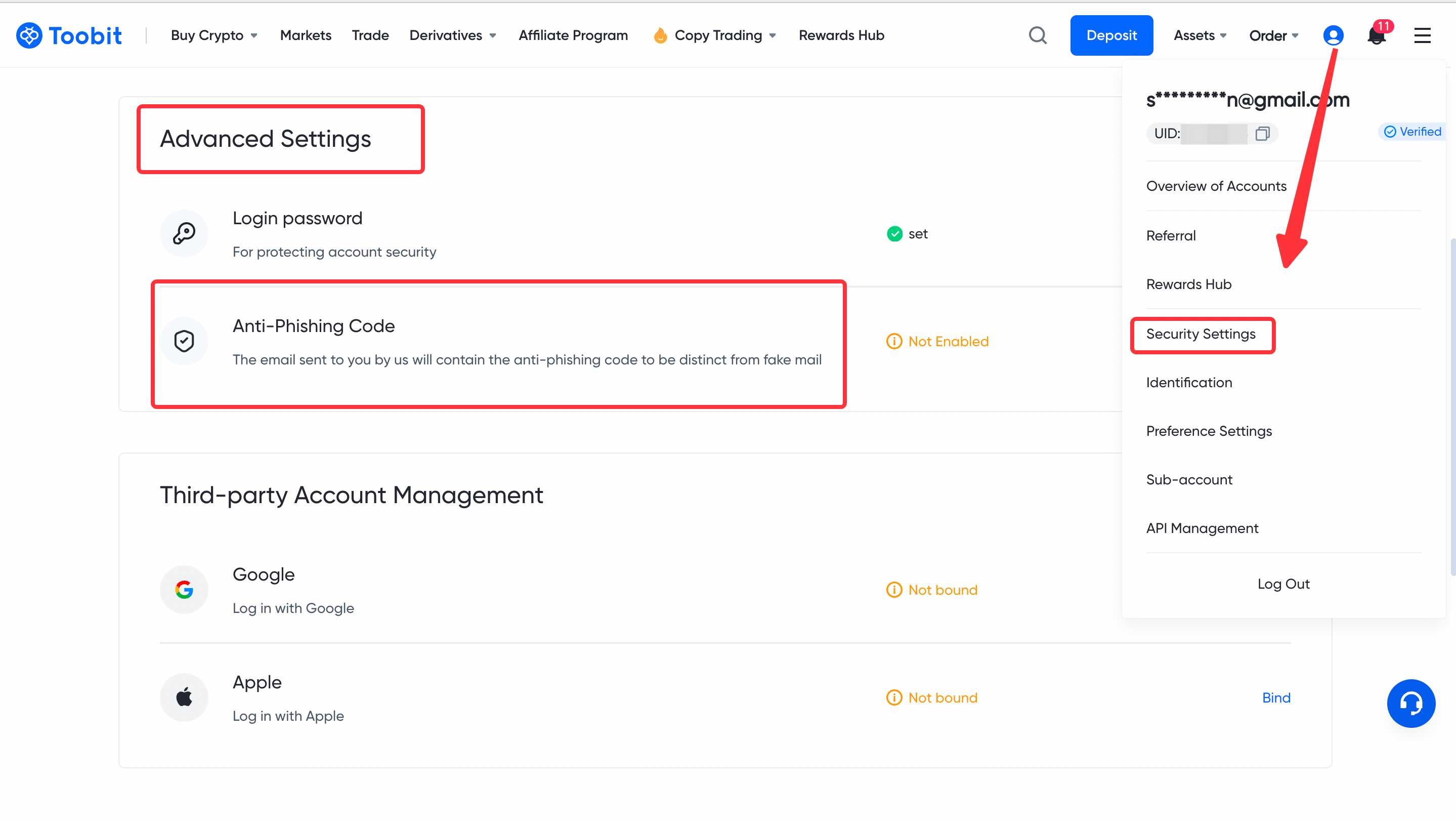 Check the validity of alternative Toobit links with

Toobit Verify

,

our official verification system

. If a link is NOT from our official source, the system will notify you immediately upon entering it.
Use different login names and passwords if you have more than one crypto derivative.

Use secure two-factor authentication tools such as Google Authenticator for all your logins.

Never store the two-factor authentication key in your Drive. In the case that it gets lost, contact customer support immediately.

Type URLs into your address bar instead of using search engines to visit websites.
If you spot any suspicious websites, please report them to us so we can take immediate action. Toobit does not tolerate any impersonations of platforms or communities that pose as another person, brand, or organization in a confusing or deceptive manner.
Thank you for your attention and trade safely.
Toobit reserves the right in its sole discretion to amend or cancel this announcement at any time and for any reason without prior notice.
Risk Warning: Digital asset prices can be volatile. The value of your investment may go down or up and you may not get back the amount invested. You are solely responsible for your investment decisions and Toobit is not liable for any losses that might arise from your use of Margin. This information should not be regarded as financial or investment advice. For more information, see ourTerms of UseandRisk Warning.