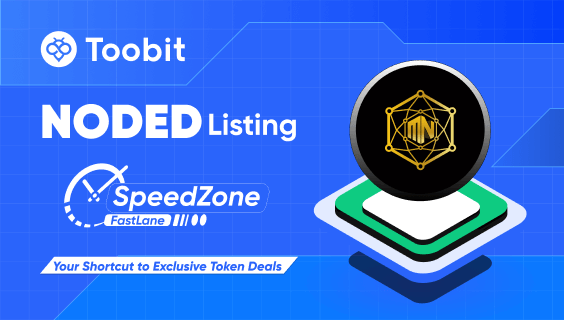 Dear Toobit Users,
We have something exciting to announce! Are you ready for some real speed? With Toobit's Speed Zone, you will be on track to the first Toobit FastLane project, Masternoded (NODED).
What Is Toobit Speed Zone?
Speed Zone is a Toobit exclusive function where our users can buy new tokens that have not been launched on Toobit yet in advance.
Note:
*While Speed Zone may be similar to the concept of launchpads, launchpools, and IEO, it is not to be mistaken as such. How to participate Toobit Speed Zone
What is a Presale?
Before a Speed Zone token is officially listed on our platform, users can buy it at a special offer.
This way, users are not only buying the token in advance, but also buying the token at a better price than the price of the token when it officially opens on our platform.
Are you ready? Now it's time for you get on the FastLane in our SpeedZone and be the first to own Masternoded—a new hot token coming soon to Toobit! Following steps below to participate in the listing:
Stage 1 - SpeedZone Presale: FastLane activity
All users can participate in this activity (No threshold or requirements)

The special Speed Zone price for token is limited. The opening price will be higher than the Speed Zone offer.

Duration: From Nov 2nd to Nov 7th

Requirement for your first order: minimum purchase of $50 tokens

Maximum purchase in total: 1,000 tokens

Buy in only
Once you've completed your buy in, all that's left to do is to wait for the official trading to open! 🤩
Stage 2- Official Trading Open: TBD
After the FastLane activity has ended, Masternoded (NODED) will officially be available for spot trading this coming November 10th!
Here are some key details about the NODED Spot Trading schedule:
Deposit of NODED opens on November 15th,2023(UTC)

Spot trading for NODED opens on November 11th,2023(UTC)

Withdrawal of NODED opens November 15th,2023(UTC)
About Masternoded
Masternoded is an interoperability aggregator protocol that brings together decentralized applications across multiple blockchains. Enabling users to earn passive income from cross-chain liquidity pools, Staking pools, validator nodes and Masternodes from one end point. This is a revolutionary approach to passive income and Defi, fostering decentralisation, security and giving users full control of their assets.
Token Information
Token Name: Masternoded Token
Ticker: NODED
Max Supply: 1 trillion
Contract address: 0xCa93A5d889e445CECb42E5386f7d516511d2820f
Chain: ERC20
Information on Website and WhitePaper
Information on Dev Community:
Related Links
Audit and KYC Links
We at Toobit would like to thank you for your continuous support. Toobit believes in building a crypto ecosystem in a way that promotes transparency and long-term, sustainable growth, and we implore you to undergo this journey with us. Trade safely and wisely.
23.10.30
Team Toobit
More Listing Information:
Toobit reserves the right in its sole discretion to amend or cancel this announcement at any time and for any reason without prior notice.
Risk Warning: Digital asset prices can be volatile. The value of your investment may go down or up and you may not get back the amount invested. You are solely responsible for your investment decisions and Toobit is not liable for any losses that might arise from your use of Margin. This information should not be regarded as financial or investment advice. For more information, see ourTerms of UseandRisk Warning.