First of all, congratulations for becoming a Pro Trader and creating a whole new stream of income for yourself. You will may want to know something about the Pro Trader, please continue to read below article.
Follow the below steps to start with Copy Trading.
1、You can visit https://www.toobit.com/en-US/copytrading ,and click "My Trades"—"Start Trading".
2、As a Pro Trader, you can support to trade BTC、ETH、BNB、DOGE perpetual contract for now, and your trading will be automatically synchronized to your followers for opening/closing positions under your types of futures.
3、As a Pro Trader , you can trade with a maximum of 20x leverage currently.
Toobit USDT-Ⓜ Futures

Trading Pair

Max.Leverage
Min.Order Quantity
BTCUSDT
20
0.001
ETHUSDT
20
0.01
BNBUSDT
20
0.01
DOGEUSDT
20
1
4、After entering the derivatives page, pro traders can select the trading pairs that support followers and transfer assets to the futures account before trading.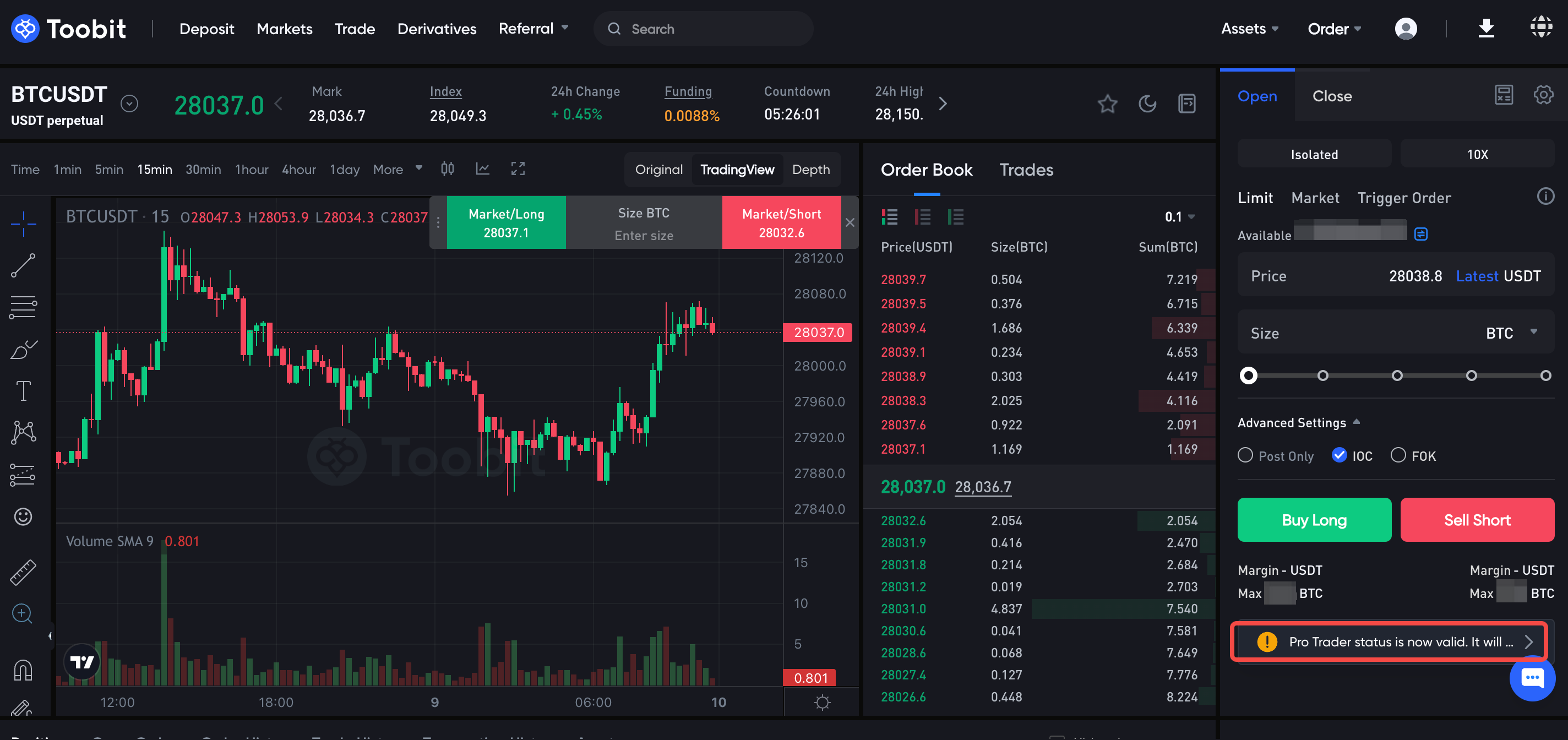 5、After the Pro Trader initiates the followers, it does not support the order to be executed in the form of a Maker. Opening positions of futures are supported only in IOC, FOK, market price, and triggered orders (market price) modes. Only closing all positions at market price is supported.
6、You can refer the data of the Copy Trading interface:
ROE:The pro traders' total profit is divided by the sum of the principal.

Followers PnL:Cum. profits of followers by this pro trader (It may differ from the actual profitability with the pro trader due to several problems, such as follower's manual closing positions in advance, different leverage from the pro trader, or insufficient position margin).

Win Rate:The proportion of Pro Traders's profitable orders in all orders.
Total Trades:Open positions of pro traders.

Total Followers:Cum. current and historic followers.
Tips:These data will be updated every 10 minutes.
7、You will get profit-sharing when your followers copy your trading strategy;
Here are examples of how the profit-sharing works:
A. Suppose Follower A opened a BTCUSDT perpetual futures with a pro trader at 15:00 on Thursday and closed it with a profit of 20 USDT and trading fees of 2 USDT before settlement. Then the reserved commission is (20-2)*15% = 2.7 USDT, which will be rewarded to the pro trader after settlement.
B. If Follower A opens a contract with a pro trader at 15:00 on Thursday and does not close it before settlement, no commission will be reserved. However, if the follower closes it with a profit next Wednesday, commission will be calculated.
C. Suppose Follower A opens BTCUSDT and ETHUSDT perpetual futures with a pro trader at 15:00 on Thursday, and there is a profit of 30 USDT in BTC perpetual futures, a loss of 10 USDT in ETH perpetual futures, with trading fees of 3 USDT and 1 USDT for BTC and ETH contracts respectively. Then the commission for the pro trader is (30-10-3-1) * 15% = 2.4 USDT.
8、Up to 100 clients can become your followers for now
Do you want to get more profit?Do you want to acquire more crypto fans?Do you want to gain more traffic exposure?Do you want to get more ......
Sign Up
your Toobit account and begin your
Pro Trader
trading journey with us!
Toobit reserves the right in its sole discretion to amend or cancel this announcement at any time and for any reason without prior notice.
Risk Warning: Digital asset prices can be volatile. The value of your investment may go down or up and you may not get back the amount invested. You are solely responsible for your investment decisions and Toobit is not liable for any losses that might arise from your use of Margin. This information should not be regarded as financial or investment advice. For more information, see ourTerms of Use and Risk Warning.